Oil companies in Venezuela pull more expat employees as unrest escalates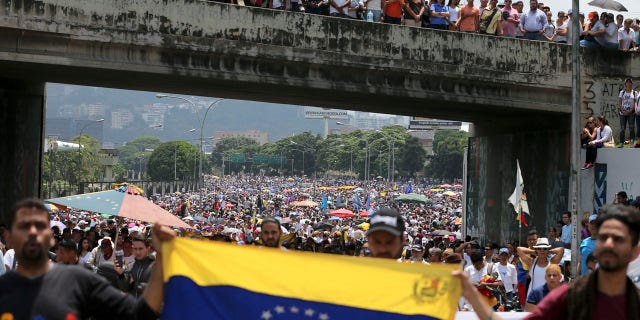 HOUSTON/CARACAS – As political turmoil in Venezuela mounts, oil firms including Norwegian major Statoil ASA and Spain's Repsol have further reduced their already-dwindling ranks of expatriate employees in the country, sources familiar with the situation said.
Statoil, Repsol and Chevron Corp are among the foreign oil companies that hold minority stakes in more than 40 joint ventures with state-run Petroleos de Venezuela (PDVSA), providing cash-strapped Venezuela with crucial crude production and income amid a debilitating economic crisis.
FEARS OF MILITARY-GRADE WEAPONS IN WRONG HANDS AMID VENEZUELA UNREST
Venezuela, South America's largest oil exporter, has been pummeled by a brutal economic crisis that has millions skipping meals, unable to afford soaring prices for basic goods and facing long lines for scarce products.
More than a dozen people have been killed during near daily clashes this month between security forces and protesters calling for elections, the release of jailed activists, and autonomy for the opposition-led congress.
At least 10 people have also died during night-time looting. Leftist President Nicolas Maduro has accused the protesters of plotting a coup against him.
VENEZUELA OPPOSITION BOSS ASKS WALL STREET TO CUT OFF MADURO
There are no reports of the unrest affecting operations in Venezuela's often isolated oil fields, but some firms have been spooked by frequent barricades blocking streets and National Guard forces firing tear gas in capital Caracas, where foreign oil companies are usually based.
Statoil, which has a joint venture in the country's Orinoco Belt extra-heavy crude region, has withdrawn its five to six expatriate staff that remained in the country, two sources said. Statoil's website says it has 30 employees in Venezuela including local staff, although it was not clear how many were native Venezuelans.
Some expatriate staff with family at Repsol, which has a 40 percent stake in the Petroquiriquire joint venture with PDVSA and also participates in the Orinoco, have recently left the country, although others remain, two separate sources said. Repsol has about 10 non-Venezuelan employees.
VENEZUELA SEIZES GM, WARNING SIGN TO U.S. COMPANIES?
The sources all spoke within the past few days and requested anonymity because they were not authorized to talk to the media.
Statoil said it has been following the situation to guarantee the safety of its staff, including local employees and expatriates. Its operations are proceeding as normal, it added.
Repsol did not respond to requests for information. Chevron declined to comment on security and personnel issues. Russia's Rosneft told Reuters on Tuesday that "the inner political situation in Venezuela does not affect the operation of the joint venture. The works are carried out as scheduled."
The turmoil underlines the difficulty oil companies encounter maintaining operations in high-risk countries from Latin America to Africa to the Middle East. Such markets typically compel the firms to pay premium salaries for expats and employ specialized security staff to protect their families.
Chevron last year advised expats living in Venezuela with their families to transfer to other locations, company sources said, part of a gradual winnowing down of expat staff as life grew more difficult there.