Obama praises the peace efforts of Colombia as 'historic'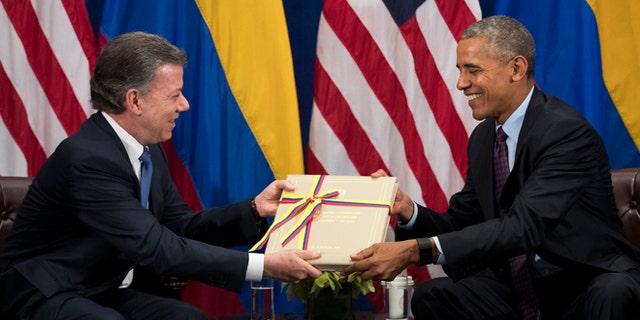 NEWYou can now listen to Fox News articles!
New York, NY – President Barack Obama is praising the peace accord in Colombia as an "achievement of historic proportions."
Obama says the U.S. is proud to have played a modest part in encouraging the talks that led to the breakthrough deal to end the Western hemisphere's longest-running war.
Obama noted the deal faces challenges in implementation, including approval by the Colombian people in an October referendum.
Obama made the remarks at a meeting with Colombian President Juan Manuel Santos. The leaders met on the sidelines of the U.N. General Assembly gathering in New York.
A Bogotá attorney, Humberto de la Calle, has been resoundingly hailed as hero in the last month for his deft handling of the peace talks with Revolutionary Armed Forces of Colombia (FARC).
De la Calle's colleagues say it was his steady demeanor, ability to listen and deep legal understanding as an author of Colombia's 1991 constitution that cinched a deal with the country's biggest rebel group. It also helped that he knew the FARC up close, having sat across from chief rebel negotiator Iván Márquez during a failed attempt at peace two decades earlier.
"Humberto was the rock of the negotiations, respected by all sides," said Bernard Aronson, who served as President Barack Obama's envoy to the talks. "He brought a lawyer's precision to the substance but also a political leader's understanding of the larger context and public opinion."
Santos presented Obama with a bound copy of the agreement and thanked the American president for supporting the process.
Santos says U.S. deserves some credit for an agreement that will change both Colombia and the larger region.
Colombia's peace accord is standing out as a bright spot for a troubled Latin America at the high-level U.N. General Assembly gathering.
Colombian President Juan Manuel Santos basked in world praise as he formally submitted the peace deal with FARC to the U.N. Security Council.
U.N. Secretary-General Ban Ki-moon said that "in a time of armed conflicts in many other paces, peace in Colombia sends a powerful message of hope in the world." He praised Santos for his "vision and determination."
Santos received a warm embrace from Venezuelan Ambassador Rafael Ramirez after the ceremony.
Earlier in the week, Latin America's bitter divisions were on display when Venezuela and six other Latin America countries walked out as Brazilian President Michel Temer addressed the General Assembly, protesting the impeachment of his predecessor.
Based on reporting by The Associated Press.
Like us on Facebook
Follow us on Twitter & Instagram