Number of Venezuelan seeking asylum to U.S. soars as economic crisis deepens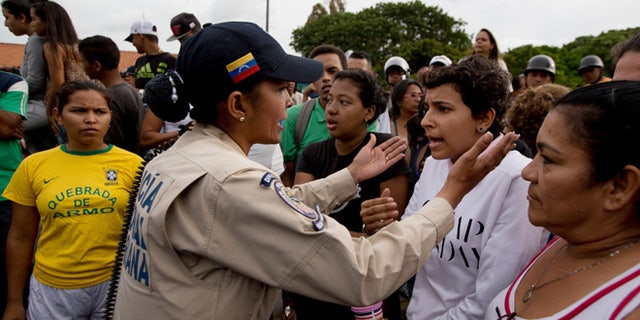 NEWYou can now listen to Fox News articles!
CARACAS, Venezuela (AP) – The number of Venezuelans seeking asylum in the United States has soared as the oil-dependent economy crashes and more of the middle-class flees.
The most recent data from the U.S. government's Citizenship and Immigration Services show that in March 2016, Venezuelans climbed to second place among nationalities submitting asylum requests, with 1,345 applications during that month. Only citizens of China made more requests, 1,441 of the total 10,345 submitted that month.
The South American country first cracked the top 10 asylum-seeking nations in February 2014 when a bloody, months-long street protest movement seeking to oust the socialist administration kicked off. But back then, amid the widespread jailing and harassment of opponents of President Nicolas Maduro, fewer than 100 Venezuelans per month sought asylum.
The number of applicants has accelerated sharply since December 2015, when the opposition scored a landslide victory in congressional elections, giving hope to many that it could disrupt 17 years of socialist rule. Instead, more and more Venezuelans are choosing to leave as an economic crisis marked by triple-digit inflation pulverizes salaries and widespread food and medicine shortages makes life unbearable for many.
The asylum requests in March surpass the number of applications received in all of 2013, according to Julio Henriquez, director of the Boston-based nonprofit Refugee Freedom Program, which drew attention to the data in a report Thursday. It also is more than the total number of Venezuelans granted asylum in 2014. The vast majority are middle class Venezuelans who don't qualify for refugee status reserved for those seeking to escape political persecution, he said.
Still, given mounting hardships at home, increasing numbers of Venezuelans are willing to take advantage of a more-than-two-year delay for their application to be processed to obtain work authorization and seek short-term employment even if it means being eventually deported.
"There are startling reports on unscrupulous attorneys, notaries and organizations taking advantage of the situation, filing cases that would clearly fail to qualify," Henriquez told The Associated Press. "We're working to educate the Venezuelan community on the complexities of qualifying for asylum and the harsh consequences of filing a frivolous claim."