North Korea's weapons 'are only aimed at the US,' regime official says
North Korea's weapons "are only aimed" at America and its territories, a regime official menacingly revealed during Tuesday's joint talks with South Korea — doubling down on Kim Jong Un's frequent threats to destroy the United States.
Ri Son Gwon, the head of North Korea's five-member delegation at the first joint talks with South Korea in two years, said the regime's weapons aren't pointed at South Korea, China or Russia, Reuters reported. He made no mention of Japan, which has seen at least two missiles fly dangerously close to it last year.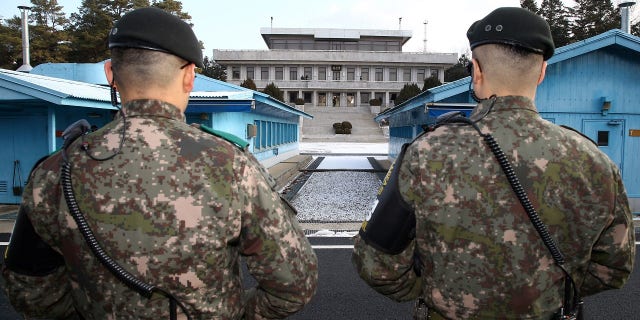 "North Korea's weapons are only aimed at the United States, not our brethren, China or Russia," Ri said, adding the regime's nuclear program wasn't an issue between the two Koreas.
Ri added discussing North Korea's nuclear program will only damage ties with South Korea.
The joint talks came after Kim's New Year's Day address in which he expressed interest in sending a delegation to the winter games, bringing a glimmer of promise for improved ties in the future. But the despot then continued his bombastic threats against the U.S., boasting about his "nuclear button" on his Pyongyang office desk that could launch a missile that would reach "the whole territory of the U.S."
Trump tweeted at Kim the next day: "Will someone from his depleted and food starved regime please inform him that I too have a Nuclear Button, but it is a much bigger & more powerful one than his, and my Button works!"
In a joint statement after the meeting at the border village of Panmunjom, North and South Korea agreed to "actively cooperate" during next month's Pyeongchang Olympics to "enhance the prestige of the Korean people."
"I think we took an important first step toward the development of South-North relations," chief South Korean delegate Cho Myoung-gyon said after the talks. "I believe that North Korea's participation in the Pyeongchang Games will provide us with a chance to reduce tension on the Korean Peninsula."
North Korea will be sending a delegation — including high-ranking officials, cheerleaders, performing artists and taekwondo athletes — to the Winter Olympics between Feb. 9 and 25, the first sign of a possible thaw in relationship between to rivaling sides.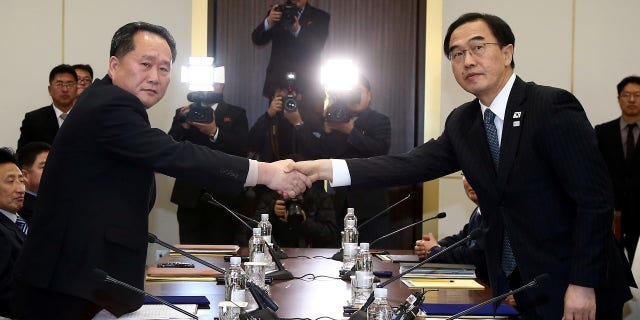 The regime also agreed to hold military talks with the South to reduce animosity and restore a military hotline communication channel. The restoration of the hotline was the second in about a week. All major inter-Korean communication channels had been shut down in recent years as a protest toward North's nuclear program.
The Associated Press contributed to this report.