North Korea's latest ICBM has potential to reach Washington, Seoul says
North Korea's intercontinental ballistic missile fired this week potentially has the capability of reaching targets as far as 8,100 miles away, putting Washington, D.C., within reach, South Korean officials said Friday.
The North's Hwasong-15 is considerably larger than the regime's previous ICBM, the Hwasong-14, and is designed to deliver larger warheads, South Korea's Defense Ministry said in a report to lawmakers.
The report would seem to confirm Pyongyang's claim that the Hwasong-15 can carry "super-large heavy nuclear warheads."
North Korea launched what it called its "greatest ICBM" Wednesday and the regime claimed it is capable of striking the "whole mainland" of the U.S. State TV said Dictator Kim Jong Un gave the order Tuesday.
North Korea said the missile reached a height of 2,796 miles and traveled 596 miles, demonstrating the potential to reach a range of 8,100 miles. David Wright, a U.S. physicist who has studied North Korea's missile and nuclear programs, said Tuesday that this would put any part of the U.S. comfortably within reach of a North Korean missile strike.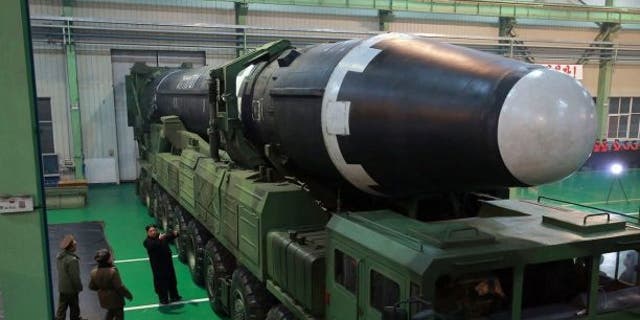 It's still not clear how close the missile is to being combat ready. The Defense Ministry told lawmakers that further review is needed to determine whether the missile's warhead can survive atmospheric re-entry, accurately hit a target and detonate properly.
South Korean President Moon Jae-in shared Seoul's assessment with President Trump in a telephone conversation Thursday night. The two reaffirmed their commitment to strengthen pressure and sanctions on Pyongyang to discourage its nuclear ambitions, Seoul's presidential office said.
North Korea has described its new ICBM as "significantly more" powerful than the Hwasong-14, which the North flight tested twice in July. Photos and video of the launch released by the North's state media on Thursday confirm the Hwasong-15 is an entirely different beast.
Pyongyang does not appear to be finished testing missiles.
Satellite images obtained exclusively by Fox News on Thursday show what appears to be another launch pad being constructed at the Panghyon Air Base in North Pyongyang, in the past week. It is the same site of the July 4 ICBM launch.
Fox News' Edmund DeMarche, Katherine Lam and Yonat Friling and the Associated Press contributed to this report.