North Korean soldier is shot while defecting across DMZ, South says
An elite North Korean soldier stationed at the heavily guarded Demilitarized Zone made a bold bolt for freedom Monday, defecting to South Korea despite getting shot twice, the South's military said.
North Korean soldiers shot at the unidentified North Korean soldier when he ran from the guard post at the northern side of the village, South Korea's Joint Chiefs of Staff said in a statement.
He suffered gunshot wounds to his elbow and shoulder and was taken to the hospital when South Korean soldiers found him about 25 minutes later on the southern side of the Joint Security Area, a strip of land where North and South Korean forces stand face-to-face, the military said, according to the South's Yonhap News Agency.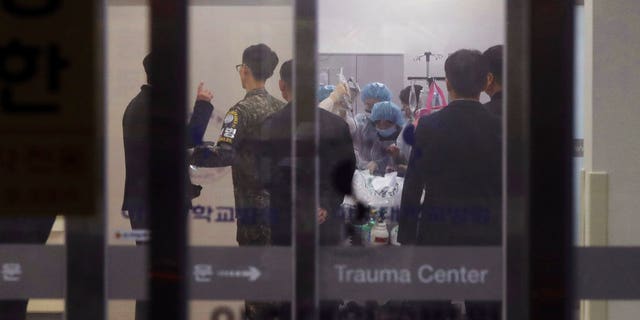 "He crossed from a North Korea post towards our [South Korean] Freedom House," the South said in a statement.
It's unclear what the soldier's conditions are or why he decided to defect to the South. The South Korean military said he was unarmed and was wearing a combat uniform for a law ranking soldier.
South Korean military said there was no armed conflict after the incident, but they are "increasing alertness" for a possible provocation from North Korea.
"Currently, there are no unusual signs in the North Korean military, but we are increasing alertness against the possibility of North Korean provocations," officials told Yonhap News Agency.
About 30,000 North Koreans have defected to South Korea since the end of the Korean War, but most travel through China. An estimated 1,000 people flee Kim Jong Un's volatile regime each year, but going through the DMZ — fortified with land mines, barbed wires and machine guns — have been extremely rare because of the dangerous conditions. This year, North Korean defectors successfully escaping the regime fell by 12.7 percent, according to the Telegraph.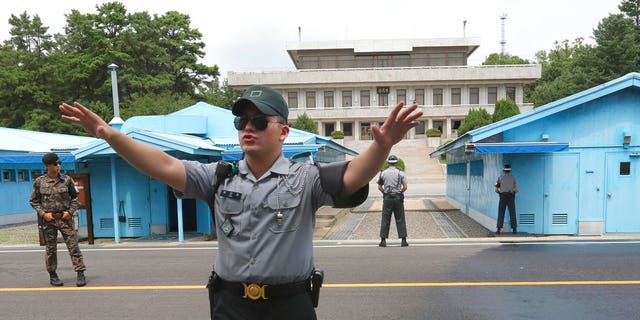 The soldier's successful escape makes only the fourth defection by a North Korean soldier through the DMZ in the last three years, the BBC reported. Yonhap News agency said Kim's military officials reportedly "cherry-pick" loyal soldiers who are stationed at the DMZ.
At Panmunjom, once an obscure farming village inside the 2 1/2-mile-wide DMZ that separating the rivaling countries, North Korean soldiers wearing lapel pins with the images of late North Korean leaders often use binoculars to monitor visitors from the South. They stand only several yards away from tall South Korean soldiers wearing aviator sunglasses and standing motionless like statues.
Panmunjomis where an armistice was signed to pause the Korean War. Jointly controlled by the American-led U.N. Command and North Korea, the DMZ is guarded on both sides by hundreds of thousands of combat-ready troops, razor-wire fences and tank traps. More than a million mines are believed to be buried inside the zone.
The defection came during escalated tensions between the North and the South and nearly a week after President Trump visited Seoul for his five-country Asia tour. American presidents often visit Panmunjom and other DMZ areas during their trips to South Korea to reaffirm their security commitment to the South. Trump planned to visit the DMZ to underscore his stance against North Korea's nuclear program when he came to South Korea last week as part of an Asian tour, but his plans were thwarted by heavy fog that prevented his helicopter from landing at the border area.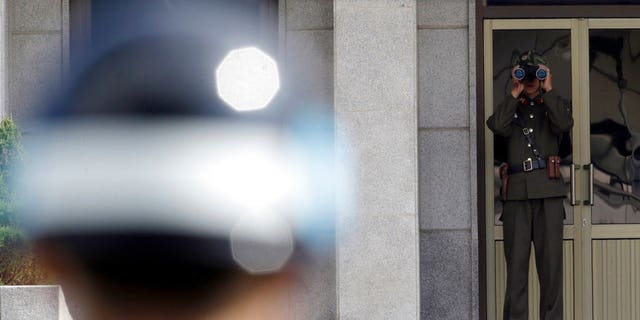 Areas around Panmunjom were the site of bloodshed and defection attempts by North Koreans in the past, but there have been no such incidents in recent years.
The most famous incident was in 1976, when two American army officers were killed by ax-wielding North Korean soldiers. The attack prompted Washington to fly nuclear-capable B-52 bombers toward the DMZ in an attempt to intimidate North Korea.
In 1984, North Korean and U.N. Command soldiers traded gunfire after a Soviet citizen defected by sprinting to the South Korean sector of the truce village. The incident left three North Korean soldiers and one South Korean soldier dead. In 1998, a North Korean solider fled to South Korea via Panmunjom.
The Associated Press contribute to this report.