North Korean defector may have committed murder before daring escape across DMZ, report says
A North Korean soldier whose dramatic dash across the Demilitarized Zone to the South was caught on video reportedly committed murder before his stunning defection.
The soldier, Oh Chong Song, 24, admitted during an interrogation by the South Korean spy agency that he "committed a crime" while living under Kim Jong Un's regime, South Korean newspaper Dong-a Ilbo reported, citing intelligence sources. Oh ran across the Joint Security Area  -- a heavily guarded strip of land at the DMZ where North and South Korean forces stand face-to-face -- on Nov. 13 while his former comrades fired dozens of rounds at him, striking Oh several times.
"I committed a crime in North Korea, which led to death," Oh reportedly told his interrogators.
'ENORMOUS NUMBER' OF PARASITES IN NORTH KOREAN DEFECTOR'S BODY, DOCTORS SAY
Details about the alleged crime were not immediately released.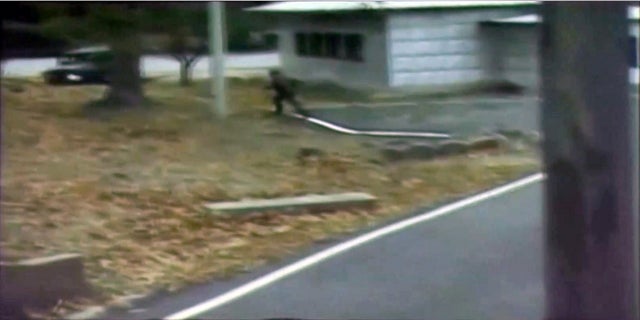 When asked about the report, a spokesperson for the South Korean Ministry of Unification would not confirm the new development because of the ongoing investigation, according to Yonhap News Agency.
"The investigation has not been completed yet," a ministry spokesperson told reporters Tuesday. "We cannot confirm specific details of the incident."
Oh endured two surgeries after he suffered at least five gunshot wounds. Video of Oh's sprint to freedom showed him speeding down a tree-lined road as stunned North Korean soldiers began running after him. After exiting his vehicle and running across the border, Oh fell into a pile of leaves against a small wall before being dragged to safety by South Korean troops.
NORTH KOREAN DEFECTOR WILL GET FREE CHOCO PIES FOR LIFE, REPORT SAYS
He was transferred to a South Korean military hospital in mid-December and was said to be interviewed by officials, Reuters reported.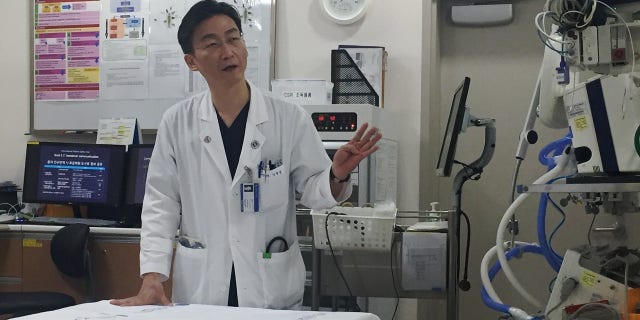 "Oh has been transferred to South Korea's military hospital and South Korea's intelligence services will soon schedule the security questioning process depending on Oh's condition," an intelligence official said at the time.
But his defection led to many questions, including what caused him to escape to the South through the heavily fortified DMZ, which is riddled with land mines, barbed wire fences and machine guns and watched by soldiers with binoculars.
Doctors also made disturbing discoveries while treating Oh, including extracting an "enormous number" of parasitic worms — one 11 inches long — slithering inside his body.