North Korea tunnel work at nuke test site, research institute says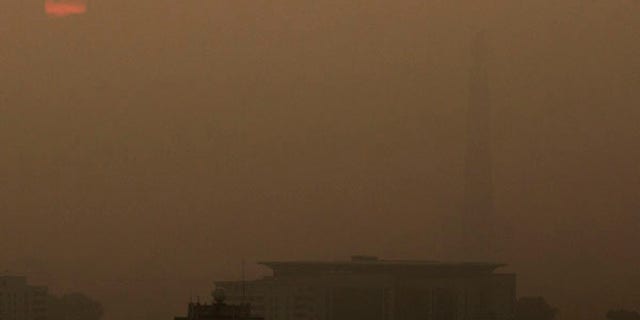 WASHINGTON – Satellite photos show signs of new tunnel work at North Korea's underground nuclear test site, a U.S. research institute said Tuesday.
The U.S.-Korea Institute at Johns Hopkins School of Advanced International Studies said in an analysis that it does not appear to indicate another underground blast is imminent at the Punggye-ri site in the country's northeast.
But it suggests North Korea has continued to work on its nuclear weapons program despite a recent easing of the tensions that followed its atomic test in February.
The commercial imagery shows gray spoil, apparently of rock dug from inside the mountain site, dumped near a tunnel entrance.
The work appears to have started by late April, according to the analysis published on the institute's web site, 38 North. The latest photo is from June 1.
The images provide hints about what's going on at Punggye-ri but critical activities are conducted underground out of aerial view. And it is notoriously difficult to gauge Pyongyang's intentions, particularly with regard to its nuclear program that has advanced despite U.N. Security Council demands for it to desist.
North Korea has conducted three test explosions at Punggye-ri, in 2006, 2009 and this February.
"This new activity probably shows that Pyongyang continues to work on its nuclear arsenal and that it wants to be in a position to conduct more nuclear tests if the current round of diplomatic activity fails to make progress," said 38 North editor Joel Wit, who is a former State Department official.
While North Korea offered earlier this month to restart talks with the U.S. without preconditions, Washington is cautious because of the failure of past aid-for-disarmament negotiations. It says it will judge Pyongyang by its actions, and for dialogue to resume, North Korea needs first to take steps to show it is sincere about previous commitments to abandon nuclear weapons.
The North's latest nuclear test drew international condemnation and tighter U.N. sanctions. Young leader Kim Jong Un's government responded by issuing a litany of dire threats against the United States and its allies and announced it was restarting a shuttered plutonium reactor that can produce fuel for bombs.
The institute says it's too soon to determine the exact purpose of the recent activity at Punggye-ri, near to one of three entrances to the mountain. The images show rails have been installed for mining carts to carry spoil via a western entrance used for the 2009 test and possibly the February test.
It could indicate construction of a new tunnel that will take several years to complete; repair to an existing tunnel; or clearing of debris from existing tunnels caused by past nuclear tests, according to the analysis.
The institute notes that opening a sealed tunnel previously used for a test would be hazardous because of the dangers of radioactivity.