North Korea preparing for another ballistic missile launch, sources say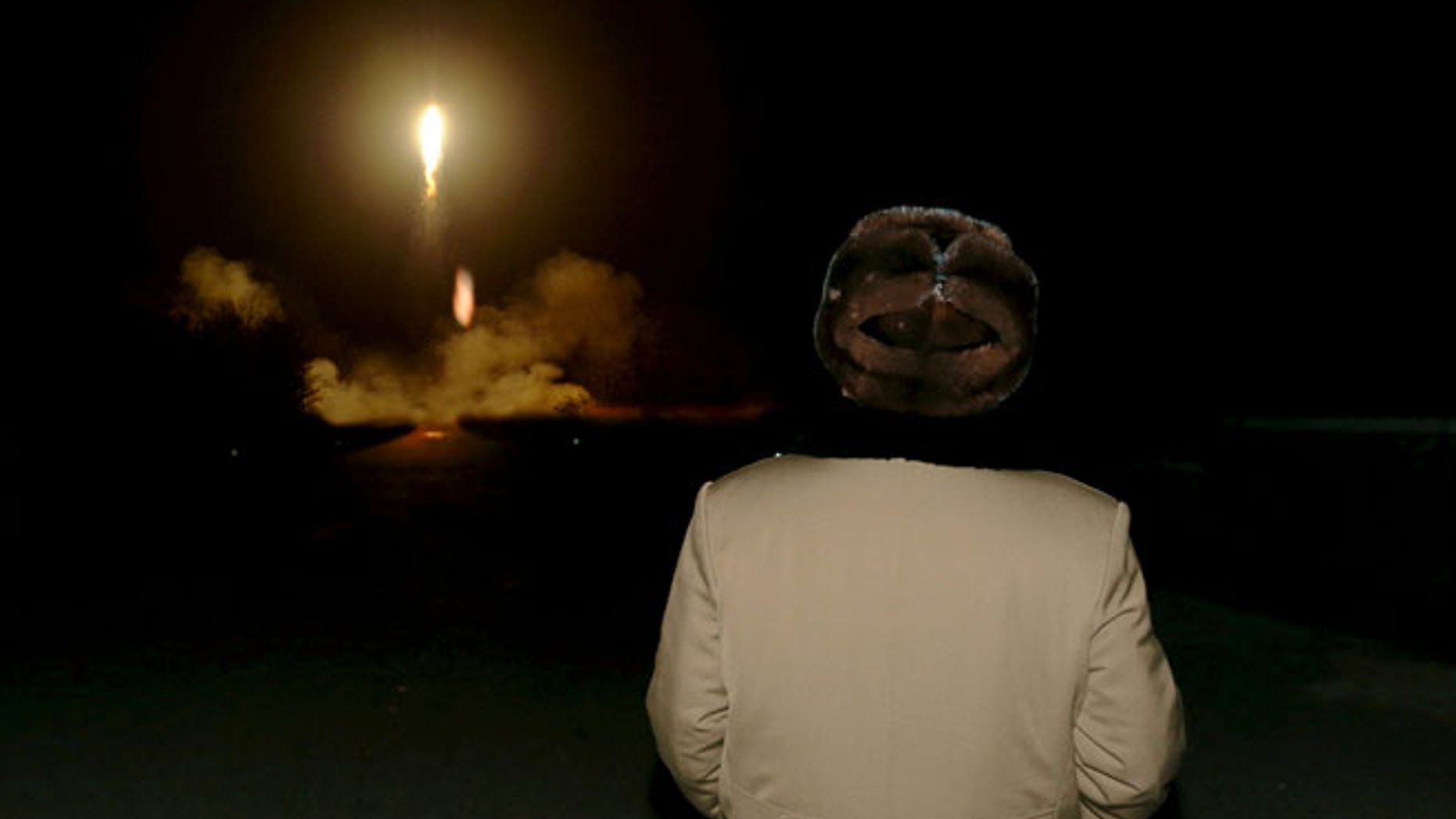 North Korea is preparing to launch another intermediate-range ballistic missile in the next 24 to 72 hours, two U.S. officials with knowledge of the latest intelligence assessment tell Fox News.
The pre-Election Day launch of the Musudan missile would be the ninth test launch this year, in addition to two nuclear tests by the communist nation in defiance of United Nations sanctions.
Neither official would specify what the latest satellite imagery showed indicating a launch was days away. The U.S. military is concerned that the Musudan can be launched from concealable road-mobile launchers, typically from highways or mountainous areas. North Korean officials have long expressed a desire to build a nuclear-capable intercontinental ballistic missile to strike the United States.
GETTING NORTH KOREA TO GIVE UP NUKES A 'LOST CAUSE,' AMERICAN INTEL CHIEF SAYS
North Korea has shown a propensity to conduct missile launches around major events in the United States. In early February, Superbowl Sunday in the United States, North Korea launched a satellite into space.
One of the Musudan launches came before the final presidential debate and while top South Korean leaders visited Washington earlier this month.
"In this case, I think it's a real test," said Jeffrey Lewis, a scholar at the Middlebury Institute of International Studies specializing in North Korea. "They are going to keep firing until it works."
In March, the U.N. Security Council unanimously adopted a resolution condemning a January nuclear test as well the long range launch putting the satellite in space. Resolution 2270 calls on North Korea not conduct further tests and immediately suspend all activities related to its ballistic missile program.
On Monday, for the first time in 28 years, a U.S. Navy ballistic missile submarine visited the U.S. island territory of Guam in the western Pacific, according to Navy officials. USS Pennsylvania, the American submarine which made the call to Guam, can carry 24 Trident D-5 intercontinental ballistic missiles (ICBMs) with a range of nearly 7,500 miles, capable of destroying any city in the world while submerged. Each Trident missile can carry multiple independent warheads, each one more powerful than the atomic bomb dropped on Hiroshima during World War II.
Last week, the Director of National Intelligence James Clapper said the goal of persuading North Korea to abandon its pursuit of nuclear weapons is probably a "lost cause."
KIM JONG UN'S WIFE DISAPPEARS FROM PUBLIC EYE, SPARKING FEARS FOR HER SAFETY
Earlier this month, North Korea attempted two Musudan launches, which both failed according to the U.S. miltiary. One of the launches occurred while South Korea's top diplomat and defense minister visited Washington for scheduled talks. At the State Department, U.S. Defense Secretary Ash Carter vowed an "overwhelming" response if the United States or its allies were attacked. Secretary of State John Kerry said the U.S. would deploy an advanced anti-missile system, THAAD, "as soon as possible."
South Korean Foreign Minister Yun Byung-se warned that North Korea was "nearing the final stage of nuclear weaponization" and called the threat "grave."
At a Pentagon press conference alongside his American counterpart hours after the North Korean launch, South Korean Defense Minister Han Min-koo, speaking through an interpreter, said there was a "high possibility" North Korean dictator Kim Jong-un was present for the launch. Han said his country would keep up "psy-ops" or psychological operations to expose North Korea to the outside world.
Recent satellite photos first reported by the Washington Post last week allege the two recent missile launches on Oct. 15 and Oct. 20 may, in fact, be long range KN-08 missiles and not Musudan intermediate-range missiles.
Despite a number of spectacular failures beginning in April, North Korea conducted a Musudan launch last summer that was deemed partially successful. The U.S. military's Strategic Command said a June lunch resulted in a Musudan traveling nearly 250 miles into the Sea of Japan. When fully operational, a Musudan can travel up to 2,500 miles, well within range of U.S. forces stationed in Japan and Guam, according to officials.
In August, the U.S. Air Force deployed three types of bombers to Guam for the first time together-- the B-1, B-2 and B-52. Strategic bombers such as the B-2 and B-52 are one of three legs of the U.S. military's nuclear deterrence. U.S. Navy ballistic missile submarines and land-based intercontinental Minuteman III ballistic missiles based in the United States are the other two.
Weeks later, North Korea successfully test fired a submarine-launched ballistic missile, a KN-11, which flew over 300 miles.
The missile landed in Japan's air defense identification zone for the first time, according to the Japanese government. Japanese Prime Minister Shinzo Abe called it an "unforgiveable act" at the time.
In September, a pair of B-1B supersonic bombers from Andersen Air Force Base in Guam flew over South Korea, joined by U.S. and South Korean fighter jets in a show of force. North Korea later said the US was "bluffing." The B-1B is no longer a nuclear-capable bomber, according to the U.S. Air Force.
Four of North Korea's five nuclear tests have taken place during the Obama administration, but North Korea's nuclear aspirations go back decades. North Korea first tested a nuclear device in 2006 when President George W. Bush was in office.
In a December 2014 interview with Fox News' Chief Washington correspondent James Rosen, former Vice President Dick Cheney said he tried unsuccessfully in 2007 to persuade President Bush to bomb a nuclear reactor in northeast Syria at Al Kibar which had been constructed with help from North Korean officials, according to U.S. and Israeli intelligence. After North Korea's nuclear test in 2006, President Bush said he would hold North Korea "fully accountable" if they attempted to export any nuclear technology. Cheney told Rosen he wanted the president to defend the "red line" he had declared with regards to North Korea shopping its nuclear expertise.
Yet, when President Bush asked his national security team about conducting a military operation to take out the North Korean-aided nuclear reactor in Syria, in what would become ISIS-controlled territory years later, Cheney said he was the lone vote calling for the airstrike. President Bush opted to go the United Nations instead, at the recommendation of the State Department and then-Secretary of State Condoleezza Rice. North Korea was later delisted as a state sponsor of terrorism.
On September 5, 2007, eight Israeli fighter jets destroyed the nuclear reactor at Al Kibar, "which was the right answer," said Cheney.