North Korea leader Kim Jong Un projects new image by showing off wife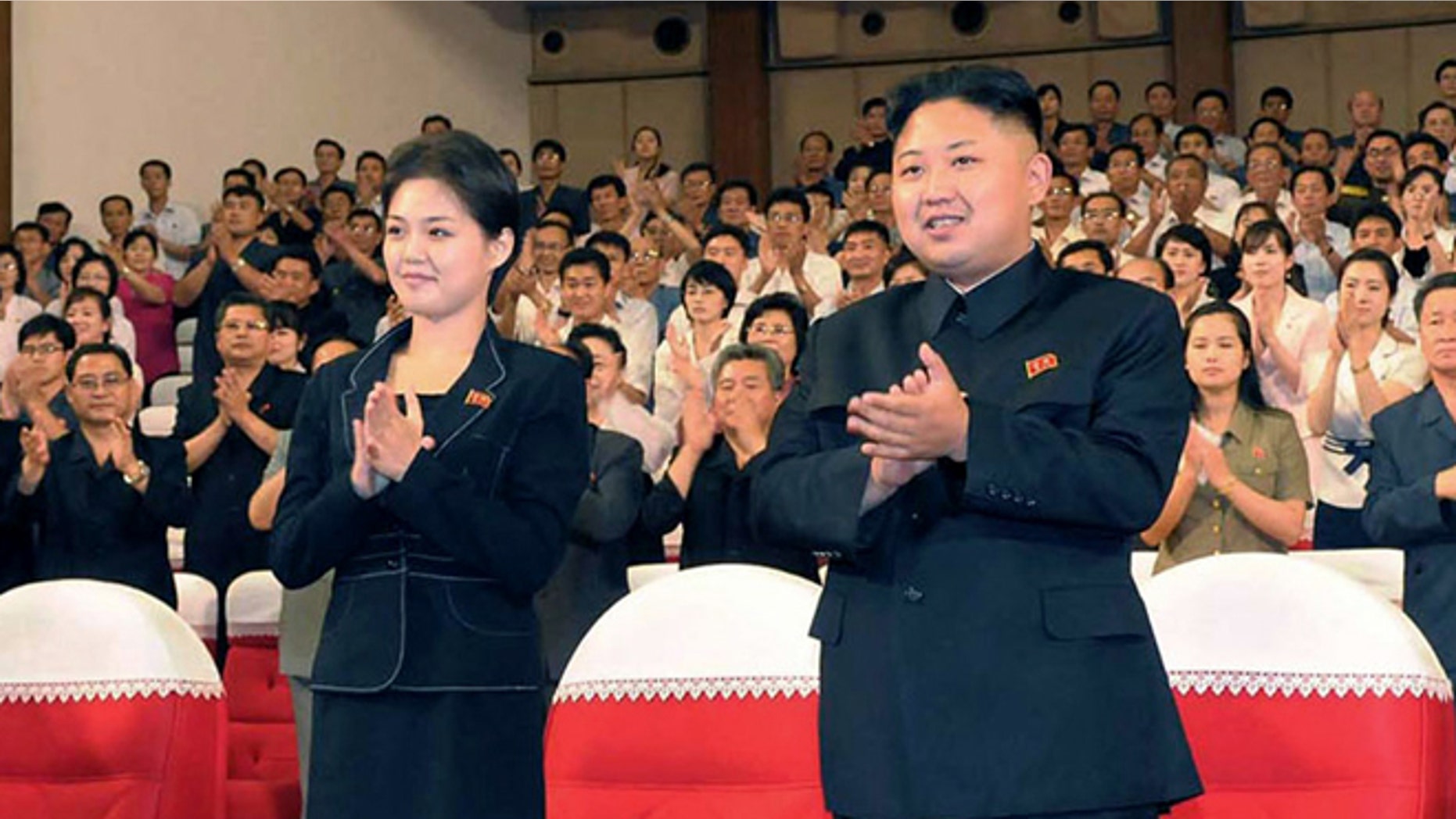 SEOUL, South Korea – The nation's young leader tours a new amusement park with his beautiful bride on his arm, smiling and waving to adoring crowds. An everyday image of domestic bliss in high places?
In North Korea, it was a carefully choreographed appearance aimed at showing Kim Jong Un as a friendly, modern leader, no different from the heads of other countries. It also provided a sharp contrast to the intensely private face his father Kim Jong Il had portrayed during his 17 years in power.
Kim Jong Un's marital status was confirmed almost as an afterthought by state TV in an understated report on Wednesday about the opening of the amusement park: "As a welcoming song resonated, dear respected Marshal Kim Jong Un, supreme commander of our party and people, appeared at the inauguration ceremony together with his wife, comrade Ri Sol Ju."
With that sparse description, the typically close-lipped North Korean government revealed to the world that the mystery woman seen beside Kim at public events over the last several weeks was indeed his wife, as had been speculated. No details were given, but South Korean media reports said she is a former singer and cheer squad member and that they married in 2009.
Analysts say the disclosure of his marital status was aimed at sending the message that the 20-something Kim was mature and stable, someone people can relate to despite having only seven months of experience as leader following the death of his father in December.
Marriage would ease worries among Kim's people and the much older officials serving under him "about the youth question," said Daniel Pinkston, a Seoul-based analyst with the International Crisis Group.
It also helps ordinary North Koreans feel that their new ruler is an average guy, not an eccentric, said Ahn Chan-il, another political analyst.
Ri was shown smiling while speaking with her husband, her arm tucked closely under Kim's as they led an entourage of senior military and party officials through the park. In another photo released by the official Korean Central News Agency, she held Kim's arm while he raised the other to wave his hat at a crowd of people in swimsuits.
Such public displays of affection aren't unusual among ordinary North Koreans, but they are a big change for the ruling family and a "shocking" development in a country like North Korea, where first ladies are normally hidden from publicity, said Lee Woo-young, a professor at Seoul's University of North Korean Studies.
"The North seems to be focusing on portraying Kim as a friendly, young and down-to-earth leader," Lee said.
Kim has been seen with Ri during a kindergarten visit and other events recently, including a concert where Mickey Mouse and other Disney characters performed, but state media had not mentioned her before now.
On Wednesday, Kim and Ri, wearing a stylish red and black polka dot jacket and black skirt, were shown smiling broadly as they inspected the newly opened Rungna People's Pleasure Ground. They were greeted with loud cheers when they visited a dolphin show, a wading pool and a mini golf course, KCNA reported.
The couple "saw dolphins playing stunts to the tune of joyful music," and also shook hands with foreign diplomats and officials and their wives, the dispatch said.
South Korean media speculated that Ri was a singer before her marriage. Joongang Ilbo, citing an unnamed intelligence official, reported Thursday that Ri resembles a woman who sang with the North's Unhasu Orchestra. Yonhap News Agency quoted an unnamed source as saying that Ri performed in an orchestra for a state security organ before marrying Kim Jong Un.
Also Thursday, the National Intelligence Service told lawmakers that Ri visited South Korea in 2005 as a member of North Korea's cheering squad to an Asian athletic competition, according to the office of a lawmaker, Jung Chung-rae.
The NIS told lawmakers that Ri is from an ordinary family and studied singing in China, and that she and Kim married in 2009.
"Kim Jong Un is breaking with his father's secrecy-shrouded leadership," said Lim Eul-chul, a North Korea expert at South Korea's Kyungnam University. "The revelation of his wife is a sign that Kim wants to show a more open leadership" compared to Kim Jong Il.
But little is known about Ri, including her age, although she is believed to be in her early 20s.
The senior Kim's 17-year rule was known for its secrecy, and his companions and children were rarely discussed. That includes Kim Jong Un, who was virtually unknown outside North Korea before his formal introduction to the world in late 2010.
Kim Jong Il is thought to have had three wives, one of whom was a former dancer who gave birth to Kim Jong Un and another son and, it is believed, a daughter. He is also believed to have had a companion named Kim Ok, said to be a pianist who served as the late leader's secretary starting in the 1980's.
The new leader's methods are considered more similar to his grandfather, North Korea founder Kim Il Sung, who was often shown alongside his wife and with children in his arms.
None of this necessarily means that major economic or social reforms are imminent in North Korea.
Kim has promoted younger officials and recently dismissed former military chief Ri Yong Ho, once seen as a key mentor during Kim's rise to power. The South Korean intelligence agency said it believes Ri was removed because he opposed Kim's moves to strengthen his control over the military.
Kim has also continued with moves that have angered the West and his neighbors, including a long-range rocket launch in April, and repeated threats to attack the South. Diplomacy meant to restart talks with the United States and its allies on North Korea's nuclear weapons program has gone nowhere
Meanwhile, the country struggles to feed its people. A recent U.N. report said two-thirds of its 24 million people face chronic food shortages, and access to clean water, regular electricity and medicine is still remote for most of those living in the underdeveloped countryside. A U.S.-based rights group also estimates tens of thousands of prisoners remain held in Soviet-style penal camps.