North Korea fires ICBM into Japanese waters
North Korea fired an intercontinental ballistic missile (ICBM) around 1:30 p.m. ET on Tuesday, the first such launch from the rogue regime in more than two months, a U.S. official confirmed to Fox News.
The missile, believed to be an ICBM by the Pentagon based on initial assessments, was launched from Sain Ni, North Korea and flew roughly 620 miles before landing in the Sea of Japan.
South Korea's Yonhap News Agency, which first reported the launch, said the missile launch happened around 3 a.m. local time in North Korea. South Korea fired pinpoint missiles into nearby waters to make sure North Korea understands it can be "taken under fire" by the South, Defense Secretary Jim Mattis said.
North Korea has been working hard to perfect "re-entry" technology to one day have a warhead be able to survive re-entry into Earth's atmosphere. This ICBM would be able to hit any city within the U.S. if a warhead is able to survive re-entry.
It was determined by the North American Aerospace Defense Command (NORAD) that the missile "did not pose a threat to North America, our territories or our allies," Pentagon spokesman Col. Robert Manning III told Fox News.
Manning, in an earlier statement, said: "We are in the process of assessing the situation, and we will be providing additional details when available."
TIMELINE OF 2017 NORTH KOREA MISSILE AND NUCLEAR TESTS
The ICBM flew nearly 2,800 miles into space, according to Yonhap. NASA's International Space Station only orbits the Earth from 250 miles into space.
North Korea has now test-launched three ICBMs in its history. Tuesday's missile flew 1,000 miles higher than the regime's first launch on July 4.
President Trump told reporters Tuesday that the missile launch "is a situation that we will handle," and added the U.S. will "take care of it." The president was briefed on the launch while it was still in the air, press secretary Sarah Sanders tweeted earlier in the day.
Defense Secretary Mattis added North Korea is continuing to build missiles that can "threaten everywhere in the world" as it continues to endanger world peace, regional peace and "certainly the United States."
"With each launch, [North Korean officials] are advancing their capability and they are making it clear that they can hold the entire U.S. at risk," House Armed Services Committee Chairman Mac Thornberry, R-Texas, told Fox News. "They are steadily moving on and we're not responding in kind."
He added, "It is incredibly serious partly because [North Korean dictator] Kim Jong Un is very serious about what he says and what he says is that he wants to hold the entire United States at risk with his missiles, with nuclear weapons, and we have seen him actually deliver on what he says he wants to do."
U.S. Ambassador to the United Nations Nikki Haley, and ambassadors from Japan and South Korea, requested an emergency meeting of the U.N. security council Wednesday following the launch.
This is the first missile launch since North Korea fired an intermediate-range KN-17 on Sept. 15 that flew over Japan's Hokkaido Island before splashing into the Pacific Ocean. There have been signs indicating Kim Jong Un's regime was planning a missile launch in recent days.
Japan's Kyodo News reported Monday the Japanese government detected radio signals pointing to a possible missile test in the near future. However, satellite images did not show a missile or movable launch pad.
North Korea's Sept. 15 missile launch flew 2,300 miles out, putting the U.S. island territory of Guam within its range. Kim previously threatened to strike the island with four medium-range ballistic missiles in August, but ultimately stepped away from the plan.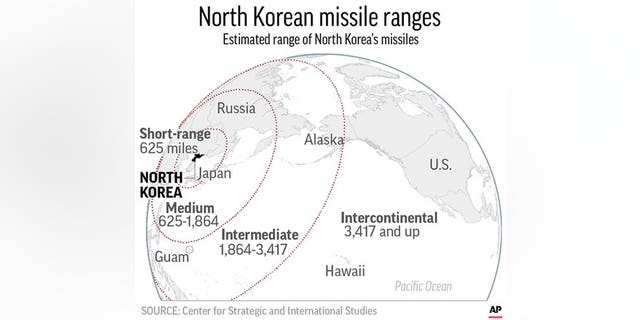 North Korea's lull in missile launches made October the only month a test wasn't conducted since the start of the year. Between February and September, the regime tested a missile an average of every two weeks. This is also the first provocation since Trump designated North Korea a state sponsor of terrorism.
NORTH KOREA'S NUCLEAR WEAPONS PROGRAM HAS GROWN WITH EACH KIM REGIME
South Korean unification minister Cho Myoung-gyon told foreign correspondents in Seoul on Tuesday that North Korea is on the verge of achieving full nuclear capability with an intercontinental ballistic missile that could carry a nuclear warhead, according to Yonhap News Agency.
"North Korea has been developing its nuclear weapons at a faster-than-expected pace. We cannot rule out the possibility that North Korea could announce its completion of a clear force within one year," Cho said.
Hawaii officials announced Wednesday the beginning of monthly siren tests, starting Friday. The tests would be conducted to prepare islanders for a possible nuclear missile attack by North Korea. The tests would be the first since the Cold War.
Fox News' Jennifer Griffin, Lucas Tomlinson and The Associated Press contributed to this report.