North Korea considering firing missiles at Guam, per state media
North Korea is seriously considering a plan to fire missiles at Guam, state media said Wednesday, hours after President Trump responded to reports of nuclear threats by saying the regime "will be met with fire, fury and frankly power, the likes of which the world has never seen before."
North Korea's army said later that its missiles would create an "enveloping fire" around Guam.
A ballistic missile operation unit for the regime will review a plan to fire a mid-range ballistic missile at the U.S. island territory on September 9, according to South Korea's Yonhap News Agency.
In a statement released by state-run media, the Korean People's Army claimed it was looking into striking Guam to subdue the U.S. military bases there, particularly the Anderson Air Force base where nuclear-capable bombers are stationed.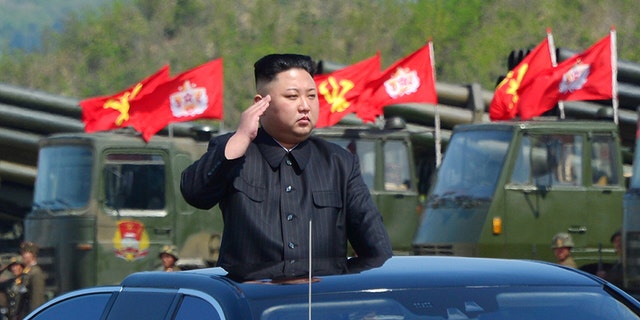 GUAM RESIDENTS CAST WARY EYE AT NORTH KOREA AFTER LAUNCH
A different statement released said that North Korea "could carry out a pre-emptive operation if the United States showed signs of provocation," Reuters reported.
Trump responded to reports of nuclear threats on Tuesday afternoon, saying the dictator Kim Jong Un "has been very threatening beyond a normal state," adding that the regime "best not make any more threats to the United States."
The president's remarks come after a report -- confirmed by Fox News -- which showed that North Korea has produced a compact nuclear warhead that can be placed inside one of its advanced missiles, which are already believed to be capable of reaching half of the U.S.
The Washington Post published partial contents of a Defense Intelligence Agency analysis that reportedly was verified by other U.S. officials.
"The [intelligence community] assesses North Korea has produced nuclear weapons for ballistic missile delivery, to include delivery by ICBM-class missiles," an excerpt of the DIA analysis stated.
TRUMP: NORTH KOREA 'WILL BE MET WITH FIRE AND FURY LIKE THE WORLD HAS NEVER SEEN' IF MORE THREATS EMERGE
Defense officials have said they believe North Korea has achieved the miniaturization of nuclear warheads -- one of three things U.S. officials previously said the regime needed to do in regards to their long-range missile tests.
Officials said North Korea also needed to be able to hit a target and demonstrate the ability to "re-enter" the earth's atmosphere.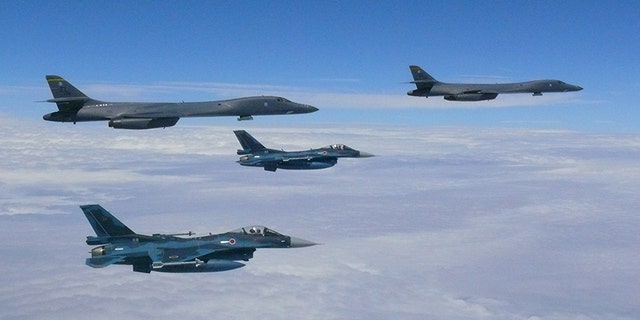 In early July, North Korean state media criticized a practice bombing run conducted by two U.S. B-1B bombers on the Korean peninsula, accusing the U.S. of "reckless military provocations."