North Korea accuses US of 'hatching a criminal plot to unleash war' while trying to continue dialogue
North Korean state media accused the U.S. on Sunday of preparing for an invasion at the same time it is pursuing dialogue with the regime with a "smile on its face."
An opinion piece in Rodong Sinum, the official newspaper of the Workers' Party of Korea, alleged U.S. military drills in the region were "extremely provocative and dangerous" and threatened to derail any dialogue between the U.S. and North Korea.
The propaganda outlet cited a South Korean broadcast claiming that U.S. flew in "special units" from the Philippines simulating an "infiltration into Pyongyang." The broadcast also claimed the USS Michigan nuclear submarine transported "Green Berets, Delta Force and other special units" from Japan to a South Korean naval base, according to The Washington Post.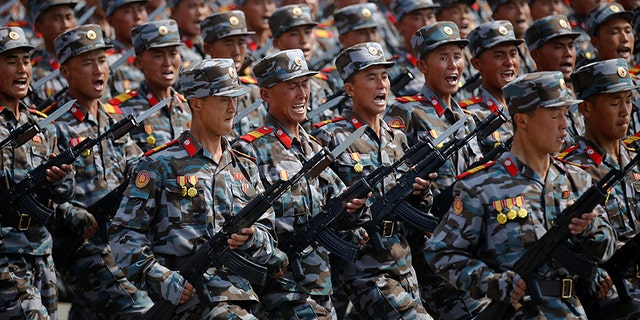 The piece went on to accuse the U.S. of "hatching a criminal plot to unleash war" against North Korea and the crime would deserve "merciless divine punishment."
"We cannot but take a serious note of the double-dealing attitudes of the U.S. as it is busy staging secret drills involving man-killing special units while having a dialogue with a smile on its face," the piece said. "The U.S. would be sadly mistaken if it thinks that it can browbeat someone through trite 'gunboat diplomacy' which it used to employ as an almighty weapon in the past and attain its sinister intention."
The U.S. military called the accusations "far fetched."
Col John Hutcheson, U.S. Forces Japan director of public affairs, told The Washington Post he wasn't sure what drills the newspaper was talking about.
"U.S. aircraft routinely fly from Japan to the Philippines and other nations around the region for a variety of training and operational reasons, so the notion that any single flight is related to North Korea is a bit far fetched," he said.
Cmdr. Clay Doss, U.S. Seventh Fleet public affairs officer, told The Washington Post the report was "completely false."
The accusations come days after Secretary of State Mike Pompeo's trip was called off. President Trump said Friday he directed Pompeo to delay the trip because of a lack of progress in nuclear disarmament talks with North Korea, which he blamed on a lack of support from China.