Niger extradites Muammar Qaddafi's son, Libyan government says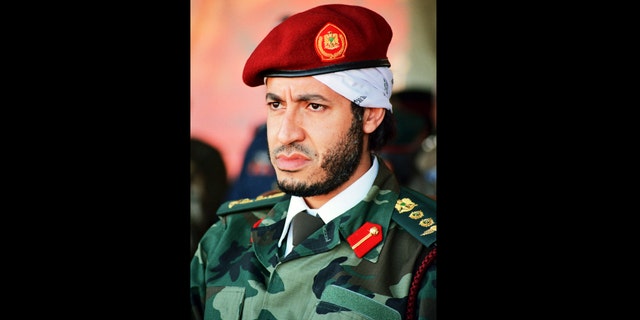 NEWYou can now listen to Fox News articles!
TRIPOLI, Libya – Niger on Thursday extradited to Libya one of Muammar Qaddafi's sons, al-Saadi, who fled as his father's regime crumbled in 2011 and who was under house arrest in the desert West African nation ever since, the government in Tripoli said.
The authorities said al-Saadi -- one of the deposed Libyan leader's eight children -- will be treated "in accordance with international law."
A Libyan official, who spoke on condition of anonymity in line with regulations, said al-Saadi arrived early on Thursday at the Tripoli airport and was transferred to a prison in the capital.
Shortly after the news broke, photographs circulated on social media showing al-Saadi in a blue prison uniform while Libyan guards were shaving his hair and beard.
Al-Saadi was known for his love of professional soccer and a playboy lifestyle. His brief career in Italian football ended after a failed drug test. He headed Libya's Football Federation and was also former head of the country's special forces.
Like most of Qaddafi loyalists and ex-regime officials, al-Saadi is wanted for his role in curbing protests against his father's rule and the killing of protesters.
But unlike his brother, Seif al-Islam, who was groomed to be Qaddafi's successor, al-Saadi is not sought by the International Criminal Court. Seif al-Islam is held by a militia in the western Libyan town of Zintan, which refuses to hand him over to the central government for trial.
With the extradition, al-Saadi joins Seif al-Islam as the only two of Qaddafi's children currently in Libya. At least three other Qaddafi's sons were killed during the uprising while the rest of the children sought asylum in neighboring Algeria, along with Qaddafi's wife and al-Saadi's mother, Safiya. The mother, a sister and two brothers, were granted asylum in Oman in 2012 and moved there from Algeria.
The rule of law is still weak in Libya after decades of Qaddafi's reign. Courts are still paralyzed and security remains tenuous as unruly militias proliferate.
The state, however, relies heavily on militias to serve as security forces since the police and military remain a shambles. Successive governments have been too weak to either secure Seif al-Islam's imprisonment in the capital or put pressure on the Zintan militia to hand him over to the government.
The ICC has charged Seif al-Islam with murder and persecution of civilians during the early days of the Libyan uprising. If convicted in that court, he would have faced a maximum sentence of life imprisonment, because it does not have the death penalty.
Last summer, the international court judges ruled that Libya cannot give Seif al-Islam a fair trial and asked authorities to hand him over to The Hague.