Nicaraguan asked to represent Libya at UN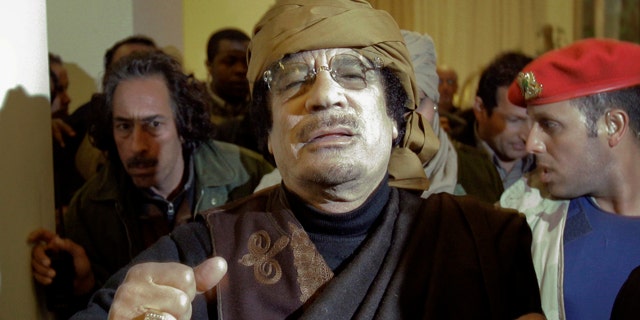 NEWYou can now listen to Fox News articles!
UNITED NATIONS – Libya has asked a former Roman Catholic priest who was Nicaragua's first foreign minister after the Sandinista revolution to represent Moammar Gadhafi's regime at the United Nations, the Nicaraguan government said Wednesday.
A Spanish version of a letter from Libyan Foreign Minister Moussa Koussa to Secretary-General Ban Ki-moon posted on the government's website asks that Miguel D'Escoto Brockman, who also was U.N. General Assembly president from 2008-2009, represent the Gadhafi regime's interests before the world body.
D'Escoto, 78, has been instructed by President Daniel Ortega to "accept this appointment and represent the people and government of Libya in its struggle to re-establish peace and defend its legitimate right to resolve, without outside meddling, its domestic conflicts," a communique on the Nicaraguan government website said.
D'Escoto "will support the Libyan brothers in their diplomatic battle for respect for their sovereignty and self-determination, both of which have been violated," the statement said.
But news late Wednesday that Koussa has resigned his post after flying from Tunisia to London left the status of the request by Gadhafi's regime in doubt. U.S. Ambassador Susan Rice's declaration that D'Escoto lacked the U.S. visa needed for diplomatic representation further muddied the waters.
U.N. spokesman Farhan Haq said the U.N. had not yet received the letter, but noted that the Nicaraguan mission had scheduled a Thursday morning news conference with D'Escoto at U.N. headquarters. Later Wednesday, U.N. officials said the conference had been canceled. A man who answered the phone at the Nicaraguan mission said diplomats were unavailable for comment because they were in a meeting.
Rice said she found the announcement "curious" and said that D'Escoto did not hold a G-1 visa — the American visa required for diplomatic representation. Although D'Escoto was born in Los Angeles, California, and once held dual citizenship, Rice said he has renounced his U.S. citizenship.
"To be the putative permanent representative (of Libya), he needs to leave the United States and apply for an appropriate G-1 visa," Rice said. "If he purports to be, or act like, a representative of a foreign government on a tourist visa he will soon have his visa status reviewed."
She also questioned whether the letter from Koussa would still have legal weight in the wake of the foreign minister's resignation.
D'Escoto told Venezuela-based Telesur network Wednesday that he accepted the assignment because what is happening in Libya is "an intolerable situation."
He criticized the United Nations as "not only a totally dysfunctional organization, incapable of meeting the objectives for which it was created, but now even worse ... a deadly weapon in the hands of the imperialist aggressor and its followers."
D'Escoto added that his role as Libya's representative will be "to promote world peace and an immediate cease-fire to create a path for a dialogue between the rebels and Libyan authorities."
Libya is seeking to have a representative at the U.N. after its former envoy, Ambassador Abdurraman Mohamed Shalgham, disavowed Gadhafi's government shortly after the February uprising that has become an armed insurrection against the longtime leader.
But he and other former Libyan diplomats who have since cut ties with the Gadhafi regime continue to work sporadically out of the mission. U.N. correspondents continue to receive communiques from the Libyan rebels' Interim National Council via the mission's official email account, including two on Wednesday.
"The Gaddafi regime has clearly proven its inability to assume its responsibility and to honor its vows in response to the demands and aspirations of the Libyan people for over four decades," read one of the statements sent from the Libyan mission Wednesday.
"They have mercenaries on the battlefield now so I guess this guy will be a political mercenary," Shalgham told The Associated Press about d'Escoto in a telephone interview on Wednesday. "I guess anything's possible these days. He's not even a Libyan.
"The representative of the Nicaraguans called me and said he's coming here," Shalgham added. "He just wants to make propaganda for Gadhafi."
Gadhafi's government has asked the United Nations to no longer recognize Shalgham and the other former Libyan diplomats attached to the U.N. mission.
It initially asked that senior Libyan diplomat Ali Abdussalam Treki be accepted as Libya's new representative to the world body in New York. But the Nicaraguan government said on its website that Treki, also a former U.N. General Assembly president, has not obtained a U.S. visa that would allow him to travel to New York and present his credentials to Ban.
"Visas for foreign officials to attend UN meetings in the UN headquarters district are adjudicated in accordance with all applicable laws and procedures including both U.S. law and the UN Headquarters Agreement," said U.S. spokesman Patrick Ventrell. "However, visa records are confidential."
Ordained a priest with the Maryknoll congregation, the Vatican suspended D'Escoto and two other priests who were involved in the Sandinista revolution, brothers Ernesto and Fernando Cardenal, in the 1980s for their political activity. The late Pope John Paul II publicly admonished him during a trip to Central America.
He became foreign minister in Daniel Ortega's government after the 1979 triumph of his leftist Sandinista revolution and remained in the post until 1990.