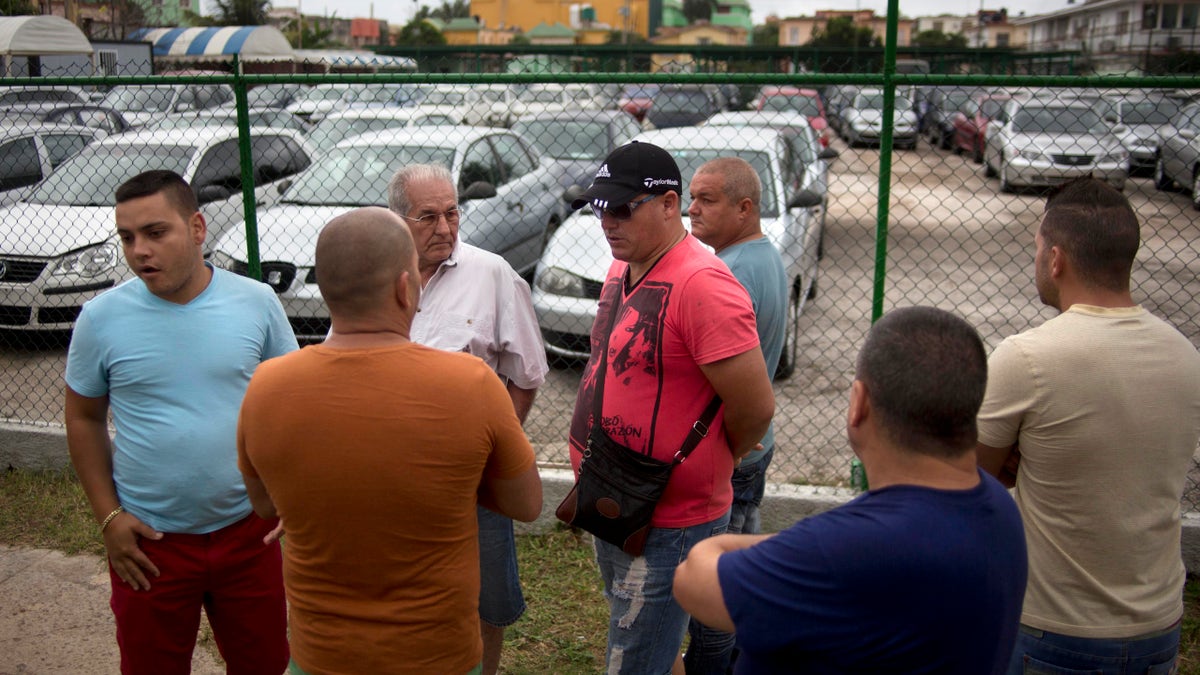 HAVANA – Talk about sticker shock!
Cubans are eagerly flocking to Havana car dealerships as a new law takes effect eliminating a special permit requirement that has greatly restricted vehicle ownership in the country. To their dismay on Friday, the first day the law was in force, they found sharply hiked prices, some of them light years beyond all but the most well-heeled islanders.
A new Kia Rio hatchback that starts at $13,600 in the United States sells for $42,000 here, while a fresh-off-the-lot Peugeot 508 family car, the most luxurious of which lists for the equivalent of about $53,000 in the U.K., will set you back a cool $262,000.
"Between all my family here in Cuba and over in Miami, we couldn't come up with that kind of money," said Gilbert Losada, a 28-year-old musical director. "We're going to wait and see if they lower the prices, which are really crazy. We're really disappointed."
Cuba's Communist-run government traditionally has placed huge markups on retail goods and services paid for with hard currency, a policy that amounts to a tax on people who can afford such goods. The practice applies to everything from dried pasta, to household appliances, to Internet access.
The astronomical sticker prices on the cars will likely mean fewer sales and the state leaving money on the table, noted Philip Peters, a longtime Cuba analyst and president of the Virginia-based Cuba Research Center.
"There's a lot more money to be made at lower price points," Peters said. "It's a short-sighted tax-man's mentality. ... Paradoxically, they mark it up so much that they're not going to make any money. But that's the mentality."
Havana legalized the sale of used cars by private individuals in 2011. But longstanding rules remained in place requiring Cubans to obtain a Transportation Ministry permit to purchase a new or used car from state-run dealerships. Permission took months or years to obtain, resulting in a black market in which car buyers would often quickly flip them for a big profit.
The new law eliminates the need for a permit, but does not allow Cubans to import automobiles directly. The government retains its monopoly on that, and alone decides a vehicle's market value. Some exceptions will still exist allowing diplomatic missions and foreign entities to import vehicles.
The Ferrari-like price schedules for even mundane new cars are a signal that automotive scarcity and high demand will likely continue to reign in Cuba, which is famous for the 1950s American cars that still rumble through the streets long after they became museum pieces elsewhere.
Because replacing a car is so difficult, those lucky enough to own a finned Detroit classic or a boxy Russian import go to great lengths to keep them on the road as long as possible, swapping in makeshift parts and resorting to creative soldering.
At a used car dealership in western Havana on Friday, there were a few relatively affordable options.
A 1997 BMW was the cheapest vehicle and the first to sell shortly after the dealership opened at 8 a.m. It went for $14,457 to a young man who declined to talk to reporters, so it wasn't known many miles it had previously logged.
But even many of the used cars had eye-popping asking prices, such as a 2009 Hyundai minivan that listed for $110,000.
"Let's see if a revolutionary worker who lives honorably on his salary can come and buy a car at these prices," said Guillermo Flores, a 27-year-old computer engineer. "This is a joke on the people."
In the past, permit holders typically bought used vehicles, often former rentals with high odometer readings that went for around $5,000-$8,000. New imports generally sold at about a 100 percent markup before. There was no explanation for the sudden, across-the-board spike in prices.
Most Cubans still earn government salaries that average around $20 a month, though some make significantly more as musicians, artists, employees of foreign companies and diplomats and doctors sent on foreign missions. Many others get financial support from relatives overseas.
But some who had managed to scrape together some savings said they're now priced out of the market.
"With these prices ... those who will be able to buy are the privileged, or the bandits," said Alfredo Boue, a 25-year-old cook. "I think the bandits are not the ones (stealing) in the streets, but the people who set these prices."
People were aghast and angry as they perused a list of prices posted outside the dealership. Some said it felt like something out of science fiction. One woman asked sarcastically if there were any bicycles, because surely that would be the only thing she could afford.
Priority was given to people who had obtained a permit under the old system, but Antonio Diaz, a 66-year-old retiree who came expecting to pay $5,000, left empty-handed and disgusted.
"What am I going to do with this letter?" he said, brandishing his now-useless permit. "I can't buy anything. I don't have the money. That was supposed to be the car for my old age, which I was going to buy after a lifetime of work."
"I'll have to resign myself to living without a car," Diaz said, shaking his head.
___
Associated Press writer Peter Orsi in Havana contributed.