New arrests in Tunisia resort attack as European security chiefs honor victims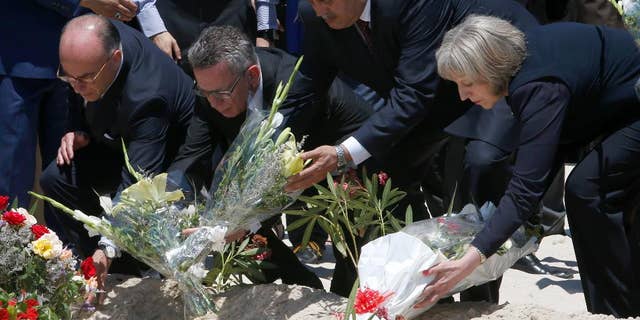 SOUSSE, Tunisia – Top European security officials paid a somber homage on Tunisian sands Monday to 38 people killed at a beach resort, as Tunisian authorities announced the arrest of seven alleged accomplices of the gunman.
British officials confirmed that most of the dead were British, and Prime Minister David Cameron said it was time for his country to become "intolerant of intolerance" and crack down on the ideas that fuel Islamic State group-inspired terrorism.
Cameron's office said that 18 Britons have been confirmed dead, and the total is expected to rise to around 30.
Tunisian Interior Minister Mohamed Najem Gharsalli on Monday announced the arrests of several Tunisians allegedly from a network behind attacker Seifeddine Rezgui, a 24-year-old student who was killed by police near the scene of the attack.
Authorities say he acted alone during the rampage but had accomplices who supported him beforehand, providing him with weapons and logistical support.
A person close to the investigation told The Associated Press that seven people were arrested in at least three different cities and were being interrogated in the capital Monday. The person was not authorized to be publicly named speaking about the investigation.
British Home Secretary Theresa May, French Interior Minister Bernard Cazeneuve, German Interior Minister Thomas de Maiziere and Belgian Interior Minister Jan Jambon joined Gharsalli on the beach in front of the Imperial Marhaba hotel in the Mediterranean resort of Sousse for the tribute Monday.
Standing on the sand surrounded by security officials, they at one point put their arms on each other's shoulders.
Gharsalli said he and the European security leaders agreed to work together on security and economic cooperation.
Friday's attack in the resort of Sousse was Tunisia's bloodiest ever, and the deadliest for Britain since the July 2005 London transit bombings, in which 52 commuters died.
Cameron announced that Britain would hold a national minute of silence at noon on Friday, a week after the attack.
Describing IS as an "existential threat," Cameron said defeating it would be "the struggle of our generation and we have to fight it with everything we can."
He said that meant confronting extremist ideology, even when it is not violent.
Cameron wrote in the Daily Telegraph newspaper that "we must be more intolerant of intolerance — rejecting anyone whose views condone the Islamist extremist narrative and create the conditions for it to flourish."
He said that starting this week public bodies including schools would have to take steps to "identify and tackle" radicalization.
Some Muslims and civil libertarians worry that such sentiments and steps risk criminalizing religious conservatism or nonviolent free speech.
Cameron's comments underscore the difficulty of combating Islamic State's violent fundamentalist ideology, which paints the West as an enemy of Islam and is spread through sophisticated online propaganda. Police estimate that 700 young Britons have gone to IS-controlled areas of Syria and Iraq.
Cameron said that despite the attack the government was not advising Britons to avoid travel to Tunisian holiday resorts.
He said the nature of the struggle against terrorism meant "nowhere is without risk from Islamist extremist terrorists."
Cameron told lawmakers in the House of Commons that the Tunisian attacker and a suicide bomber who struck a mosque in Kuwait the same day "tried to strike at places of hope: in a country with a flourishing tourist industry that is on the road to democracy and a mosque in Kuwait that dared to bring Sunnis and Shia together."
"They will not be cowed by terror and we will stand with them," he said.
___
Jill Lawless reported from London. Associated Press writer Danica Kirka contributed to this report.