New 'anti-coup squad' in Venezuela monitors, hunts opponents perceived as risk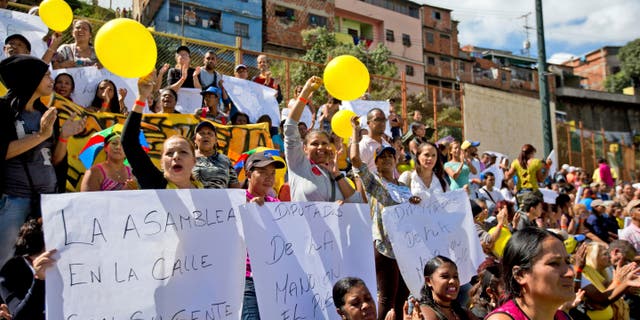 CARACAS, Venezuela – Following on his predecessor's footsteps, President Nicolas Maduro of Venezuela dreams of coups-de-etats and how to prevent them.
He started off the New Year with an announcement that may have raised concern anywhere but here, where Venezuelans are busy juggling every day with scarcity, hyperinflation and hunger. Hugo Chavez's handpicked successor said he had created an "anti-coup command," a select committee made up of five firebrand Chavistas with the task of preventing any attempt to destabilize and ultimately overthrow the socialist regime.
Maduro announced the creation of the anti-coup command in a television transmission on Jan. 8: "Surrender, because the anti-coup command has arrived and is dedicated 24 hours a day to take preventive, legal and corrective measures against all coup and terrorist sectors," he said.
MOTHER ASKS TRUMP TO HELP FREE SON JAILED IN VENEZUELA
Since the announcement, half a dozen heavyweight opposition members have been captured and thrown to jail -- most of them under weapon charges of some kind.
Congressman Gilber Caro and his friend Stacy Escalona have been accused of illegal possession of an automatic rifle and C-4 explosives, a similar charge to that pressed against Maracaibo councilmember Jorge Gonzalez, who is behind bars for nearly a month for allegedly carrying explosives and cartridges in his car.
Two retired generals have also been targeted by the newly-created command – Gen. Raul Baduel, a former ally of Chavez and now an adversary of Maduro and Gen. Ramón Lozada – as well as activist Irwin Roca and councilmember Roniel Farias.
All of them are suspected to be connected in one way or another with the "Alcatraz Plan," purportedly conceived to release opposition leader Leopoldo Lopez from jail and unseat Maduro.
HYPERINFLATION RENDERS VENEZUELA A NATION OF BROKE MILLIONAIRES
Rocío San Miguel, director of non-governmental organization Control Ciudadano, said the actions of the anti-coup command indicate it is part of a "selective criminalization apparatus" to infuse fear into opposition parties.
"By using the political and military intelligence bodies, the government establishes a route of criminal imputation based on false positives to incriminate - with the help of the military justice - some previously selected emblematic factors of the opposition," San Miguel said to Fox News.
"Anyone can fall under the selective sphere of the anti-coup command," she warned.
The anti-coup squad is headed by recently appointed Vice President Tareck El Aissami, a well-known hardliner, and manned by Interior Minister Nestor Luis Reverol; Congressman and top Chavista Diosdado Cabello; Minister of Defense Vladimir Padrino Lopez; and Gustavo González Lopez, director of the heavily politicized intelligence agency SEBIN, whose officers carry out the arrests.
"This is a government with totalitarian pretensions and will go against anyone who thinks differently. There is a plan to outlaw us," said opposition Congressman Freddy Guevara, who told Fox News he has received numerous anonymous threats.
Meanwhile, the opposition's fractious Democratic Unity coalition announced Thursday that it would definitively abandon Vatican-brokered talks with the government and present a proposal for a fresh dialogue process with new mediators.
Maduro's opponents said they had carefully studied the observers' latest proposal and arrived to the conclusion that they need to work a new text "in which not just the political organizations, but the entire democratic society presents the international community its demands and proposals for restoring the constitutional order in Venezuela and returning our country to democracy."
The coalition said the situation in Venezuela was not just a political power struggle.
"It's an existential struggle of an entire nation against an ideological project," the statement read, referring to the so-called "21st century socialism" advocated by Maduro and his mentor.
The opposition urged the Venezuelan people to continue to engage in peaceful protests as part of a sustained movement to pressure Maduro into moving up the next presidential election, which is currently scheduled for late next year.
EFE contributed to this report.