Mother asks Trump to help free son jailed in Venezuela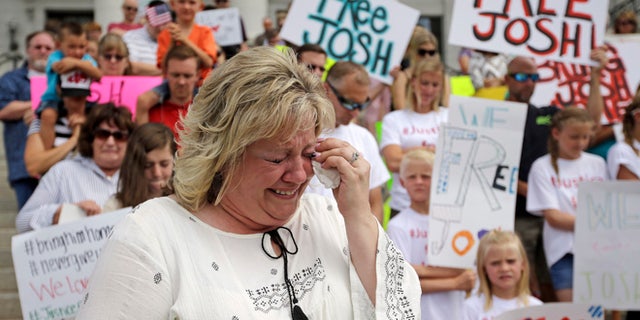 SALT LAKE CITY – The mother of a Utah man jailed in Venezuela for the last seven months has issued another tearful plea for help to free her son, this time to President Donald Trump.
Laurie Holt's reiterated this week in her new YouTube video her belief that that her son Joshua Holt is being used as a "political pawn" by Venezuela's government. The video was posted a week after U.S. Sen. Orrin Hatch of Utah mentioned the case in a meeting with Secretary of State nominee Rex Tillerson.
During his confirmation hearing last week, Tillerson did not mention Holt by name but said he plans to demand that Venezuela President Nicolas Maduro release all political prisoners.
Joshua Holt and his Venezuelan wife were arrested on June 30 on weapons charges. Venezuelan officials alleged he was stockpiling weapons at his wife's apartment and have suggested his case is linked to other unspecified attempts by the U.S. government to undermine President Nicolas Maduro's socialist rule amid deep economic and political turbulence.
Laurie Holt, of Riverton, Utah, has staunchly refuted that claim. She says her son, a former Mormon missionary, travelled to Venezuela to marry a woman he met online while looking for Spanish-speaking Mormons to help him improve his Spanish.
In the video, she criticizes former President Barack Obama's administration inability to win freedom for her son and tries to appeal to Trump's patriotism.
"President Trump, my son's only offense was that he was an American citizen. I know that you surely agree that being a citizen of this great nation should mean something," Holt said. "Josh and his wife and our entire family have been living in a hellish fog for the last months. My son has undergone the most horrifying and degrading physical and mental abuse."
Laurie Holt has endured a series of disappointments in recent months as four different hearings scheduled about her son's case in Caracas were cancelled. No new hearings are scheduled.
The U.S. State Department is concerned about the postponements and is following Holt's case closely, said Will Cocks, spokesman for the State Department's Bureau of Consular Affairs.
The department has raised the case to the highest levels of Venezuela government, urging respect for Holt's human rights and an expedited effort to resolve the case, he said in a statement.
Consular officers most recently visited Holt on Jan. 16 and will continue to make regular visits, he said.
The U.S. House passed a resolution in September calling for the release of Holt and other political prisoners in Venezuela.
Former Secretary of State John Kerry raised Holt's jailing during a meeting with Maduro in September, and a senior State Department official traveled to Caracas twice in recent months in part to push for his release.
The pressure has so far yielded no tangible results. Human rights groups contend Maduro's government is using Holt and his jailed wife, an Ecuadorean national, as bargaining chips to extract unspecified concessions from the United States.
Holt is being held in a prison in Caracas run by Venezuela's intelligence police. The facility also holds a number of activists that the opposition considers political prisoners.