Netanyahu responds to Trump, says Israel 'respects all religions'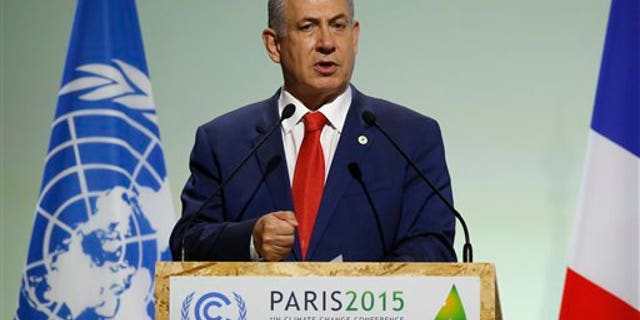 Israel's prime minister on Wednesday rejected Donald Trump's recent statements about Muslims, saying Israel "respects all religions" as he faced calls to call off an upcoming visit by the Republican front-runner.
Benjamin Netanyahu issued his statement late Wednesday, hours after it was announced that Trump will be visiting Israel at the end of the month.
"The state of Israel respects all religions and strictly guarantees the rights of all its citizens," the statement said. "At the same time, Israel is fighting against militant Islam that targets Muslims, Christians and Jews alike and threatens the entire world."
Netanyahu said the meeting with Trump, set for Dec. 28, was scheduled two weeks ago. He said he meets all presidential candidates who visit the country, and the meeting does not represent an endorsement of Trump.
Trump sparked widespread outrage this week after he proposed temporarily banning all Muslims from entering the United States in the wake of a mass shooting by a husband-and-wife pair of Islamic militants that killed 14 people in San Bernardino, California.
Members of Israel's opposition condemned the visit.
Israel Radio reported that Arab parliamentarian Issawi Frej of the dovish Meretz party has asked the interior minister not to let Trump in the country.
"Imagine that a country or a candidate would say entrance to Jews is forbidden, the whole world would stand up in protest, saying this is a racist anti-Semite. A racist like this has no place here among us," Frej told the station.
Earlier Wednesday, nearly 40 lawmakers, or one-third of the Israeli parliament, signed a petition urging Netanyahu to condemn Trump's "racist" comments and asking him for him to cancel the meeting unless Trump retracts them.
Nearly one-fifth of Israel's population is Muslim.