Nearly 20 Years After Being Required By Law, Government Looks To Create Foreigner Exit Tracking System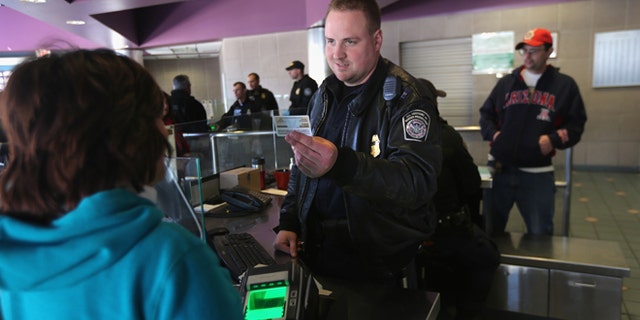 Newly released contract documents revealed that the Department of Homeland Security is looking into technology that would use facial and iris recognition to track the departure of foreign visitors.
The system, which would monitor visitors at land border crossings (including drivers and pedestrians), is the government's latest attempt to come up with a definitive system to track down temporary visitors who enter the country legally but overstay their visas, remaining in the country illegally.
The government has traditionally estimated that as many as 40 percent of the country's unauthorized immigrant population is composed of these visa overstayers.
"At land border exit[s], currently there are no biometrics captured resulting in an inability to accurately verify that a departing traveler matches a specific entry record," a market research survey released on Wednesday stated. "To biometrically identify the broadest set of travelers as well as to discourage spoofing attempts, it is envisioned that the exit solution may utilize more than one biometrics modality.
Homeland Security began to test over a decade ago machinery that could check the fingerprints and photos of visitors entering and exiting the United States, but as of now the exit component of the system still has not been implemented.
Federal law first called for the implementation of a full "entry-exit" foreigner tracking system in 1996, then reinforced under new laws enacted after the 9-11 attacks. And though major strides have been in identifying visitors when they enter the U.S., there's still no system tracking their departure.
The new technology of facial and iris recognition is part of a larger goal of the DHS to biometrically identify more than 97 percent of foreign pedestrians. Visitors' names and other descriptive information are too easy to either intentionally or inadvertently record incorrectly and proponents of using biometric identification to track exits say that this new system is more or less foolproof.
"Recently it was discovered that Boston Marathon bomber Tamerlan Tsarnaev's name was misspelled on a manifest list of a flight to Russia, meaning that the FBI did not have the benefit of an important lead in investigating his terrorist ties," Janice Kephart, a former special counsel for the Senate Judiciary Committee said, according to intelligence publication, Netxtgov.
The revelation of the proposed creation of a definitive foreigner exit-tracking program comes during a busy week for Homeland Security.
The department abruptly reversed course Wednesday and dropped plans to ask a private company to give the government access to a nationwide database of license plate tracking information.
The proposal said Immigration and Customs Enforcement, the DHS agency tasked with arresting and deporting undocumented immigrants, was planning to use license plate data in pursuit of criminal immigrants and others sought by authorities.
Gillian Christensen, an ICE spokeswoman, said the contract solicitation was posted "without the awareness of ICE leadership."
"While we continue to support a range of technologies to help meet our law enforcement mission, this solicitation will be reviewed to ensure the path forward appropriately meets our operational needs," Christensen said.
The contract notice came amid growing concerns about government surveillance of U.S. citizens but didn't address potential privacy consequences.
Before the notice was canceled, Christensen said the database "could only be accessed in conjunction with ongoing criminal investigations or to locate wanted individuals."
The Associated Press contributed to this report.
Follow us on twitter.com/foxnewslatino
Like us at facebook.com/foxnewslatino