Nazi Suspect Indicted in Germany for Role in 430,000 Murders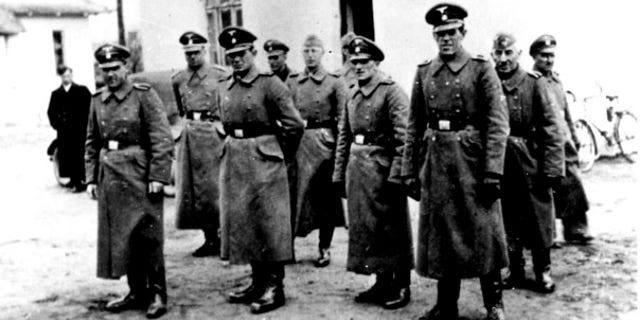 BERLIN -- A suspected former Nazi death camp guard has been charged with participating in the murder of 430,000 Jews and other crimes during the Third Reich, German prosecutors said Wednesday.
Samuel Kunz, 88, was informed last week of his indictment on charges including participation in the murder of 430,000 Jews at the Belzec death camp in occupied Poland, where he allegedly served as a guard from January 1942 to July 1943, prosecutor Christoph Goeke in Dortmund said.
Kunz is also charged with murder over "personal excesses" in which he allegedly shot a total of 10 Jews in two other incidents, Goeke told The Associated Press.
Kunz, who is No. 3 on the Simon Wiesenthal Center's list of most-wanted Nazi suspects, lives near the western German city of Bonn. When reached by phone, he said he did not want to talk about the allegations and hung up.
Kunz was not detained because officials who interviewed him think that he will not try to flee the country, a person familiar with the case said. The person spoke on condition of anonymity because he was not authorized to reveal details of the investigation.
Goeke said the case has been sent to the state court in Bonn, where officials were considering whether and when to hold a trial -- a standard procedural step in Germany.
Bonn court spokesman Matthias Nordmeyer said the court did not want to comment now on the case.
Efraim Zuroff, the top Nazi hunter at the Simon Wiesenthal Center, said Kunz participated in the so-called Operation Reinhard to eliminate Polish Jewry.
"The indictment of Samuel Kunz is a very positive development," Zuroff told AP from Jerusalem. "It reflects recent changes in the German prosecution policy, which have significantly enlarged the number of suspects who will be brought to justice."
Zuroff said Kunz had never previously been on trial over his alleged Nazi-era past and that his name first came up in investigations connected to the trial of John Demjanjuk.
Demjanjuk, 90, is currently on trial in Munich on charges of being an accessory to the murder of 28,060 Jews as a guard at the Sobibor death camp in occupied Poland. He denies he was ever a camp guard.
Prosecutors allege that both Kunz and the Ukrainian-born Demjanjuk, a retired Ohio autoworker who was deported to Germany from the U.S. last year, trained as guards at the Trawniki SS camp.
Kunz, an ethnic German, was born in August 1921 on Russia's Volga River.
During World War II, as a soldier with the Soviet Red Army, he was captured by the Germans and given the choice of either staying at the Chelm prisoner of war camp or cooperating with the Nazis, said Klaus Hillenbrand, a German expert who has written several books on the Nazi period.
Kunz agreed to work with the Nazis and, after he was trained at Trawniki, was transferred to Belzec where he served as a camp guard, Hillenbrand said.
After the war, he moved to Bonn, worked for many years at a federal ministry and was granted German citizenship. In the 1960s he gave testimony as a witness about his time at the death camp in a different trial.
Authorities recently stumbled over Kunz' case when they studied old documents from German post-wars trial about Trawniki in connection with the Demjanjuk trial. After several German media then reported about Kunz' alleged Nazi past, the Dortmund prosecutor's office started an investigation into the allegations, Hillenbrand said.
"During the 1960s, prosecutors were not interested in charging low-ranking guards," Hillenbrand said.
"That changed in the last ten years, when a new generation of prosecutors took over and there's a new way of thinking among them -- the law itself was not changed, just the interpretation of the law."
Despite a recent push by prosecutors to track down Nazi suspects, their efforts often come too late.
According to media reports, former Nazi SS officer Erich Steidtmann, who had been suspected but never convicted of involvement in World War II massacres, died on Saturday.
Steidtmann was a captain in the Nazi's elite SS force who led several battalions which allegedly carried out the mass murder of Jews, and he was long sought by the Simon Wiesenthal Center.
He was investigated several times for his alleged involvement in killings at the Warsaw Ghetto in 1943 and two massacres in the Polish city of Lublin.
Adolf Storms, a 90-year-old former SS sergeant who was No. 4 on the Simon Wiesenthal Center's list of most-wanted Nazi war crimes suspects, died earlier this month before he could be brought to trial.
Prosecutors were investigating Storms in connection with 58 counts of murder for his alleged involvement in a massacre of Jewish forced laborers in a forest near the Austrian village of Deutsch Schuetzen.