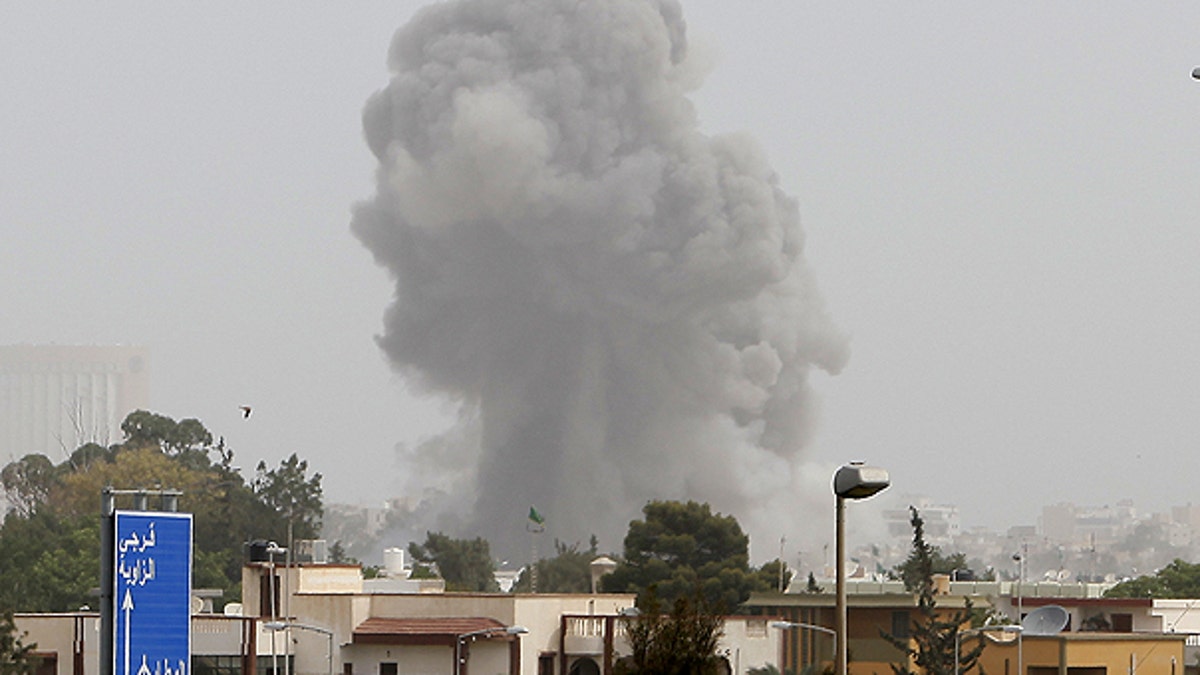 BRUSSELS-- With NATO war planes pounding Tripoli in daylight raids, the alliance's secretary-general was pressuring allies Wednesday to step up their participation in what appears to have become an escalating mission to oust Libyan leader Muammar Qaddafi.
British and French attack helicopters struck for the first time inside Libya over the weekend, significantly ramping up NATO's operations. And 10 explosions shook the capital early Wednesday, a day after the alliance's most intense wave of air strikes of the two-month campaign.
The increase in air strikes raises the question of whether NATO is sticking rigidly to its U.N. mandate to protect civilians from attack by Qaddafi's forces.
An alliance official insisted that striking at Libyan military and intelligence command and control centers like those targeted in Tripoli has "a direct correlation" with protecting civilians because it means Qaddafi's forces can no longer receive orders from commanders.
The strikes "cut off and confuse" forces on the ground, the official said. He spoke on condition of anonymity because he was not authorized to speak publicly about the mission.
Secretary-General Anders Fogh Rasmussen has said he will use a two-day meeting of alliance defense ministers, which starts Wednesday at NATO's Brussels headquarters, to push for broader participation by allies. He wants more countries from the 28-nation alliance to share the costs and risks involved in the campaign.
"Obviously some of those allies and partners carrying the heavy burden start to ask whether it would be possible to broaden the participation a bit," Fogh Rasmussen said earlier this week.
"That is also the essence of our alliance: that allies that actually have the necessary assets at their disposal, also contribute those assets, based the principle of solidarity."
A defiant Qaddafi, meanwhile, vowed Tuesday to fight to the death.
"We will not surrender: we only have one choice -- to the end! Death, victory, it does not matter, we are not surrendering!" Qaddafi said on state television.
British Defense Secretary Liam Fox said he wanted to see "increased urgency in some quarters" for the Libya campaign.
"The United Kingdom has been very forward-leading, very clear that we want to see the Libyan people safe from the excesses of the Qaddafi regime," he said. "We will want to push that point today."
Last week, NATO extended its mission, named Unified Protector, for a further three months.
The United States handed control of the mission to NATO in late March but continues to provide intelligence, surveillance and reconnaissance assets. U.S. planes also are providing about 70 percent of airborne refueling for the mission.
U.S. Defense Secretary Robert Gates did not speak to reporters as he entered the meeting, the last NATO gathering he will attend before retiring at the end of the month.
Gates arrived in Brussels after a farewell visit to American troops in Afghanistan. The 10-year war with Taliban insurgents is expected to dominate NATO discussions Thursday.