NATO Forces Pound Tripoli as Rebels Claim Gains in East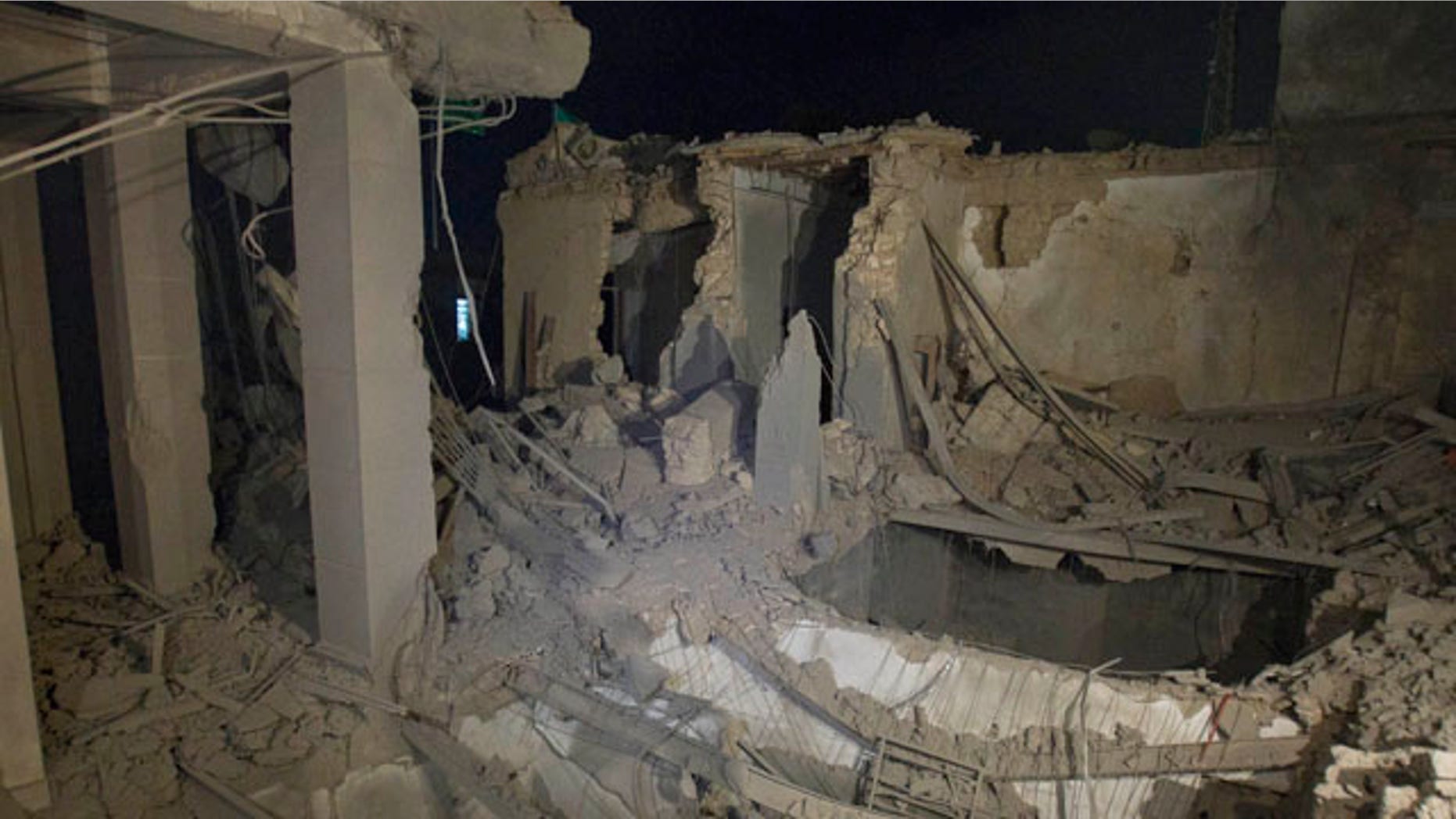 TRIPOLI, Libya – In a one-two punch against Muammar al-Qaddafi's forces, NATO warplanes struck a command center in the capital, Tripoli, on Tuesday after pounding regime targets around the besieged port of Misrata. Rebels hoped the stepped-up attacks could help extend some of their biggest advances to date, including a major outward push from Misrata.
The opposition also said it made gains along a long-deadlocked front near the eastern town of Ajdabiya.
The rebels' military spokesman, Col. Ahmed Bani, said opposition forces had pushed Qaddafi's troops out of rocket range on the west side of Misrata and dislodged them from the airport after two days of battles, raising the prospect that the siege could be broken.
Bani said rebels from Misrata and Zlitan, 35 miles west, had joined up to fight in close-range combat that rendered the regime forces' long-range rockets useless. Speaking to The Associated Press in the rebel headquarters city of Benghazi, Bani said Qaddafi's brigades were pushed about 10 miles back from Misrata's airport.
"The picture is looking good for us," he said.
In another boost to the opposition, the U.S. State Department said the first load of non-lethal American military aid for the rebels landed Tuesday at the port in their headquarters city, Benghazi.
Spokesman Mark Toner said the shipment consisted of more than 10,000 meals, with further shipments of medical supplies, boots and protective gear to arrive shortly. The delivery came ahead of planned meetings in Washington this week between U.S. officials and the head of the opposition Transitional National Council.
The Libyan conflict, dating to mid-February, had seemed stalemated for more than a week, with most of the fighting along the border with Tunisia in the far west. The latest airstrikes and overland advances may give the rebels new momentum in their struggle to topple Qaddafi and win greater freedoms.
The rebels control most of eastern Libya, and Qaddafi most of the west, including Tripoli. Exceptions in the west include pockets of embattled rebel-held towns along the border with Tunisia, and Misrata on the coast.
The NATO planes struck what the alliance called a command and control facility in downtown Tripoli early Tuesday, according to Italian Brig. Gen. Claudio Gabellini.
"All NATO targets are military targets," said Gabellini, who serves on NATO's planning staff at the headquarters in Naples.
He denied that NATO was targeting Qaddafi, saying: "We have no evidence about what Mr. Qaddafi is doing right now, and to tell you the truth we're not really interested."
Gabellini also said 30 regime military targets have been hit since May 2 around Misrata, which has been under siege by Qaddafi's forces for two months. The targets included 12 tanks, three self-propelled guns, three multiple-rocket-launchers, and various vehicles, Gabellini said.
"Although it's a real challenge for us to strike military targets in and around population centers like Misrata, while minimizing the risks to innocent civilians, we have been working hard to prevent attacks by pro-Qaddafi forces," Gabellini said.
The rebels posted video clips calling on Qaddafi's forces in the Misrata area to surrender.
"We are after you Qaddafi," one of the fighters in the video said.
Bani, the rebel spokesman, praised the latest NATO airstrikes.
"They are doing their jobs very, very well," he said. "We will need these airstrikes when we are planning to advance on the ground."
Still, he said the rebels needed the world to respond to their pleas for heavy weaponry before they can make a final push against Qaddafi's more heavily armed forces.
"We are waiting patiently until our friends in the free world arm us," he said. "When we get those weapons, with the help of our friends, I am sure we can solve this problem within a month, maximum."
Bani also contended that some regime soldiers in far-western Libya had raped women in a small village near the town of Zintan after killing many other civilians there. There was no way to corroborate the report.
In eastern Libya, rebels reported advances near the oil oasis of Jalu, and also between the towns of Ajdabiya and Brega after being bogged down on that front for weeks.
Walid Mohamed, a rebel manning a checkpoint outside Ajdabiya, said some of his comrades had advanced roughly 20 miles westward toward Brega after what he described as the fiercest fighting in weeks on that battlefront. Brega has an oil terminal and Libya's second-largest hydrocarbon complex.
A doctor at the hospital in Ajdabiya, Ahmed Mohamed, said the facility had received the bodies of six slain rebels on Monday and treated three others for wounds before they were transferred to a hospital in the rebel headquarters of Benghazi, 90 miles to the north.
Ajdabiya in peacetime has a population of more than 100,000, but has been largely deserted because of the fighting.
Though rebel appeals for heavier arms from abroad have gone unheeded, NATO has intensified airstrikes on regime forces as many countries demand that Qaddafi -- Libya's autocratic ruler for 42 years -- relinquish power.
In the latest strike, NATO planes hit several sites in Tripoli, setting off explosions that thundered through the city overnight. One strike hit a building that locals said was used by a military intelligence agency. Another targeted a government building that officials said was sometimes used by parliament members.
It was not immediately clear what the other strikes hit, but one of them sent plumes of smoke that appeared to come from the sprawling compound housing members of Qaddafi's family.
Government escorts in Tripoli did not allow reporters near the site of one building that was hit in the NATO attack. Residents said the building was used by a military intelligence agency.
Reporters, who may not leave their Tripoli hotel without government escorts, were shown damage done to a nearby hospital. A physician, Dr. Mustafa Rahim, said a 4-year-old boy was badly injured, but would not allow reporters to see him, saying he was in intensive care.
Another strike targeted a building -- struck once previously -- that two employees said was used by parliament members and housed a library for research into Qaddafi's writings.