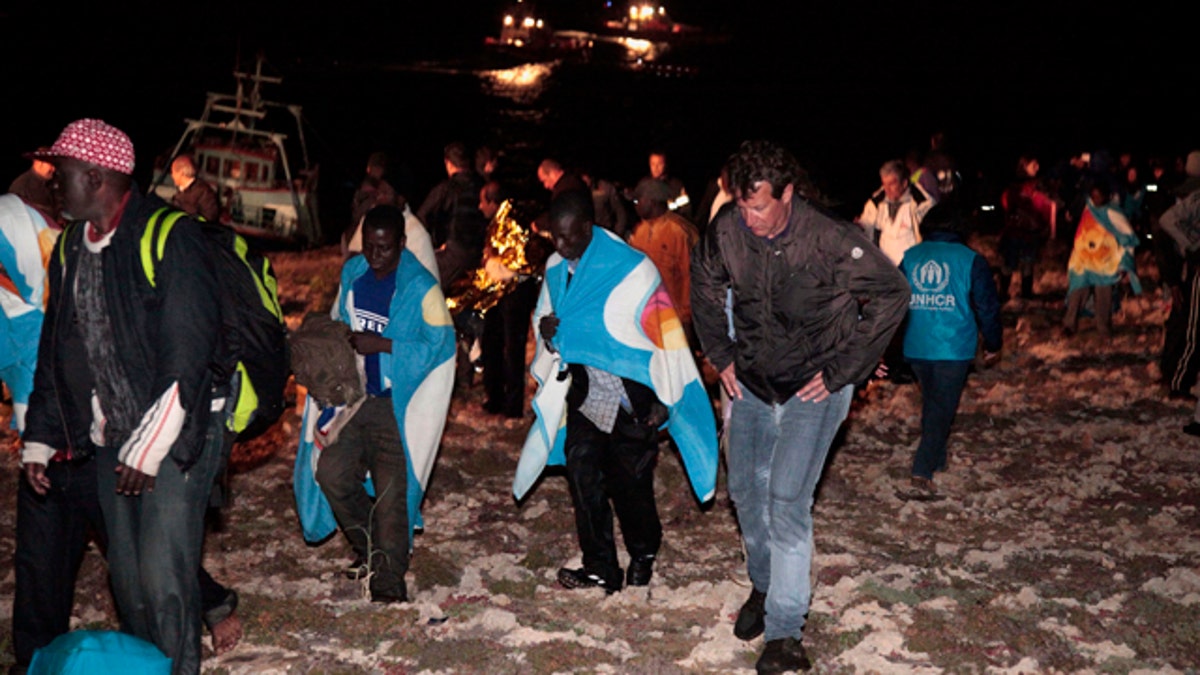 GENEVA -- Almost everyone on an overcrowded ship carrying some 600 African migrants to Europe is believed to have died when the vessel broke apart within sight of the Libyan capital, the United Nations said.
The U.N. accused the Libyan government of complicity in a rising number of deadly smuggling incidents, many involving workers from sub-Saharan Africa who had moved to Libya to find work before war broke out there in March.
International agencies say some recent migrants report being forced onto dangerously packed ships at gunpoint by Libyan soldiers. A spokesman for Moammar Gadhafi suggested that increased illegal immigration was the price European nations would pay for their military and political support of the rebels trying to topple Libya's strongman.
"Because of the NATO aggression against our country and because our coastal border guard is being hit daily ... we are unable to deal with this situation and that is why Europe is being flooded with illegal immigration," government spokesman Moussa Ibrahim said Tuesday. "We cannot be the guards of Europe at this moment."
The U.N. painted a horrifying picture of Friday's sinking, which left migrants, many from Somalia, trapped below deck and drowning within sight of the shore of Tripoli.
"We do know that there were some survivors who did know how to swim and managed to get to the beach but we believe that there were only a few," U.N. refugee agency spokeswoman Melissa Fleming said. She said a Somali diplomat in Tripoli told the agency that 16 bodies, including those of two babies, had been retrieved since the sinking.
Italy and Libya struck a 2008 deal to return would-be migrants intercepted at sea to Libya without screening them first for asylum. The agreement, criticized by refugee rights groups, reduced the number of migrants arriving in Italy from 36,000 in 2008 to 4,300 in 2010.
The U.N. said migrants' boats started leaving Libya for Europe again on March 25, the day NATO took over military operations. About 14,800 since have made the grueling journey across the Mediterranean in rickety ships run by smugglers who rarely provide enough food and water.
At least 800 people had been lost at sea in three boat sinkings before the latest ship went down with 600 aboard off Tripoli on Friday, the U.N. said.
Five boats carrying 2,400 people have arrived in recent days on the Italian island of Lampedusa, the closest European point to Libya. Every one of those boats needed to be rescued by the Italian coast guard and police, the U.N. said.
"We know that the people running the boats are smugglers. But obviously you cannot have over 2,000 people leaving in a few short days without the government knowing and allowing it," U.N. refugee agency spokeswoman Sybella Wilkes said. "That port of Tripoli is under government control."
The U.N. refugee agency appealed to European countries to step up rescue efforts for people fleeing the violence in Libya, saying European military ships off the Libyan coast should offer assistance to any migrants they see, instead of waiting to receive distress calls.
"Any boat that is leaving Libya should be considered, at first glance, as a boat in need of assistance," Fleming told reporters in Geneva.
The Geneva-based International Organization for Migration said some of those arriving on Lampedusa reported being forced onto boats at gunpoint by Libyan soldiers. The Italian government has said that Gadhafi is organizing migrant boats as retaliation against Europe.
"We know for sure that the stronger the military pressure ... the more difficult it will be for the regime to organize flows of refugees toward Europe as a means of reprisal," Foreign Minister Franco Frattini said last month. He said that the rebel opposition "has indicated to us how and where the regime tries to organize this horrible trafficking."
He said the International Criminal Court should investigate whether a crime against humanity was being committed.
Italian Interior Minister Roberto Maroni said this month that Gadhafi's threats toward Italy for its role in the NATO-led mission "are materializing in the flows of migrants after the bombing began."
Some refugee campaigners have questioned whether Europe is doing enough to help those stricken at sea.
The Rev. Moses Zerai, an Eritrean priest who has long worked with migrants and refugees, said he was contacted by people aboard a ship whose call for help was ignored by military aircraft and vessels in late March. NATO has denied that its units were involved in the incident, first reported by the Guardian newspaper.
"They drifted for 15 days and slowly people started to die. The first to die were the two children and then from hunger and thirst 61 people died," Zerai said.
Fleming said the U.N. agency could not confirm the account, which she said came from survivors who had been imprisoned by Gadhafi's regime.