Mexico's new foreign minister: We will negotiate with dignity, intelligence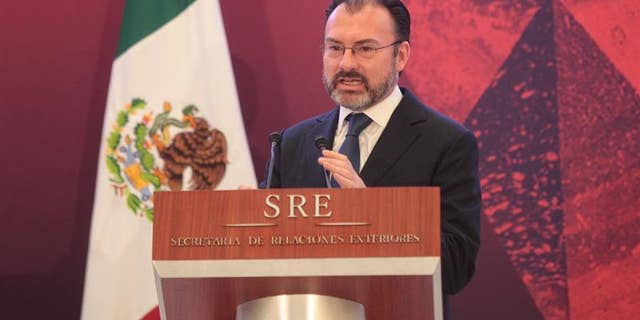 MEXICO CITY – Foreign Relations Secretary Luis Videgaray said Monday that Mexico would negotiate with the United States with "dignity and intelligence," focusing on protecting national sovereignty and the millions of Mexicans living north of the border.
Mexico "will act with dignity and intelligence, opening the doors to dialogue and negotiations to defend the interests of Mexico and Mexicans," Videgaray said in his opening address to the 28th Annual Meeting of Ambassadors and Consuls.
The address was his first as foreign relations secretary, a post he took over last week.
The former finance and public credit secretary said Mexico would not be a "submissive" nation, nor would it seek "conflict or to insult," negotiating with "common sense" instead.
Donald Trump's arrival in the White House has raised questions around the world, especially in Mexico, because "the lives of millions of our countrymen" depend on the bilateral relationship, Videgaray said.
The foreign relations secretary told the members of Congress and the diplomatic corps present that Mexico would defend Mexicans living in the United States, adding that these emigrants were "not criminals," as Trump alleged at the start of his campaign, but "productive people" who represent "the best of Mexico."
The 48-year-old Videgaray, who organized the controversial meeting between Trump and Mexican President Enrique Peña Nieto in August, said the Mexican-US relationship was "dynamic" and marked by "complex co-existence."
"There is almost no aspect of our national life that is not related in some way or other to the United States, the migrants, trade, industry, agriculture," the foreign relations secretary said.
Videgaray also addressed the issue of trade and the North American Free Trade Agreement (NAFTA), a deal that Trump has blamed for huge losses of manufacturing jobs in the United States.
"Our economies are indissolubly linked," Videgaray said.