Mexico: Two drug gang suspects killed in shootout with marines in Sinaloa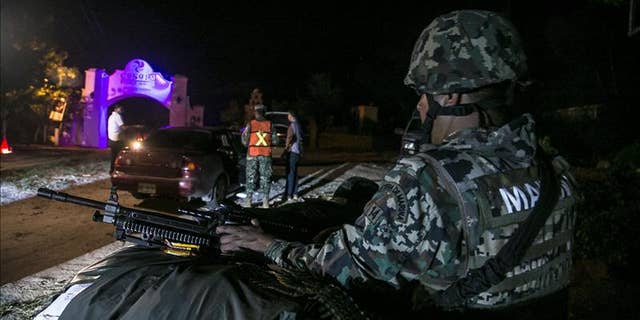 MEXICO CITY – Two suspected drug gang members were killed in a clash with marines in the northwestern Mexican state of Sinaloa, Mexican authorities say.
The marines came under attack Friday by suspected members of an organized crime gang while on patrol in the municipality of Badiraguato. According to a Navy statement, the troops called for air support, and a helicopter that responded was also fired upon.
Two gunmen were killed when the security forces repelled the attack, which occurred at a ranch in the locality of Saca de Agua.
The marines also seized six rifles, ammunition clips and ammunition, as well as 4.5 tons of packaged marijuana.
The Navy did not specify what kind of patrol was being conducted.
In recent weeks, marines have stepped up their search for fugitive Sinaloa cartel kingpin Joaquin "El Chapo" (Shorty) Guzman in the mountains of Badiraguato, the municipality where the notorious drug lord's home town, La Tuna, is located.
Guzman escaped from the Altiplano I maximum-security prison on July 11, using a nearly mile-long tunnel that authorities say was built at great expense.
He had earlier busted out of a Mexican prison in 2001 and evaded authorities for more than 13 years before being recaptured on Feb. 22, 2014.
The search for Guzman has focused on the Golden Triangle, a remote, mountainous area spanning parts of the states of Sinaloa, Durango and Chihuahua.
In October, according to the Mexican government, Guzman suffered injuries while evading a security operation to recapture him.
Based on reporting by EFE and the AP.