Mexico Drug War Deaths Top 45,000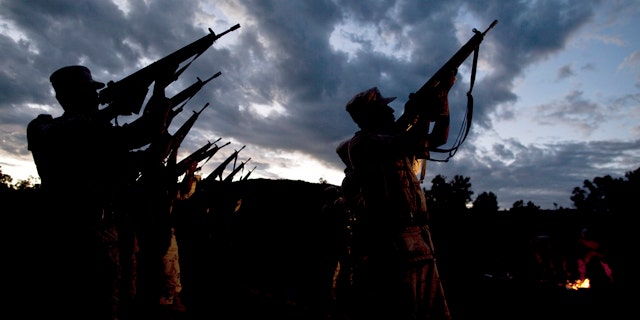 Mexico's drug war has taken more lives in recent years than the war in Afghanistan – a startling figure for a country reeling from a drug war that doesn't seem to dissipate.
The Attorney General's Office in Mexico said 47,515 drug-related deaths occurred from December 2006, when the president deployed troops to drug hotspots to September 2010. In Afghanistan, there were 18,389 civilian and security deaths from January 2007 to November of last year.
As Obama pulls troops from Afghanistan, Mexico's drug war seems as if there's no end in sight. President Obama declared last summer that he had largely achieved his goals in Afghanistan, and late last year pulled out 10,000 troops, with the remaining 20,000 expected to leave this summer.
In Mexico, drug-related killings went up 11 percent in the first nine months of 2011 when 12,903 people were killed, compared to 11,583 in the same period of 2010, the office said.
Prosecutors said a large majority of the killings last year happened in eight of Mexico's 32 states. Many of the killings occurred along towns on the U.S.-Mexico border, including Juárez and Tijuana.
The figures indicate that three quarters of all homicides in Mexico are now linked to the drug war.
The Mexican government had been periodically releasing the number of drug war dead but it stopped a year ago when they reached nearly 35,000.
Mexico's freedom of information agency had said it would ask for an investigation if prosecutors didn't release the data requested by several journalists by Wednesday.
The Attorney General's Office said that more than releasing the number of dead, what's important "is to guarantee that each killings is investigated." Records show few of the killings have been investigated.
The figures were announced the same day two decapitated bodies were found at the entrance to one of Mexico's most luxurious shopping malls.
The bodies were found before dawn inside a burning SUV just off a toll highway at the entrance to the shopping mall in the heart of the Santa Fe district that is a haven for international corporations, diplomats and the wealthy. The heads and a threatening message were dumped nearby, Mexico City prosecutors said in a statement.
Mexico's sprawling capital had been something of a haven from the brutal cartel violence along the border and in outlying states. But gangs have been fighting for an increasingly lucrative local drug market for more than a year, mainly on capital's working class outer neighborhoods and suburbs.
The Santa Fe district, built atop a former landfill on the western edge of Mexico City, houses the Mexican headquarters of major corporations and the Iberoamerican University, one of Mexico's top private schools, as well as modernistic, heavily guarded high-rises where wealthy Mexicans and foreigners live.
Most of the violence had escaped Santa Fe, which had been seen as a sterile oasis disconnected from the hubbub of most of the capital.
But as the fight among splintering drug cartels intensifies, the brazen attackers have reached even into the country's most guarded districts.
In October, the same Manos con Ojos gang claimed responsibility for leaving two severed heads on a street across from the nation's top military base in Mexico City.
Supplemented with material from The Associated Press.
Follow us on twitter.com/foxnewslatino
Like us at facebook.com/foxnewslatino