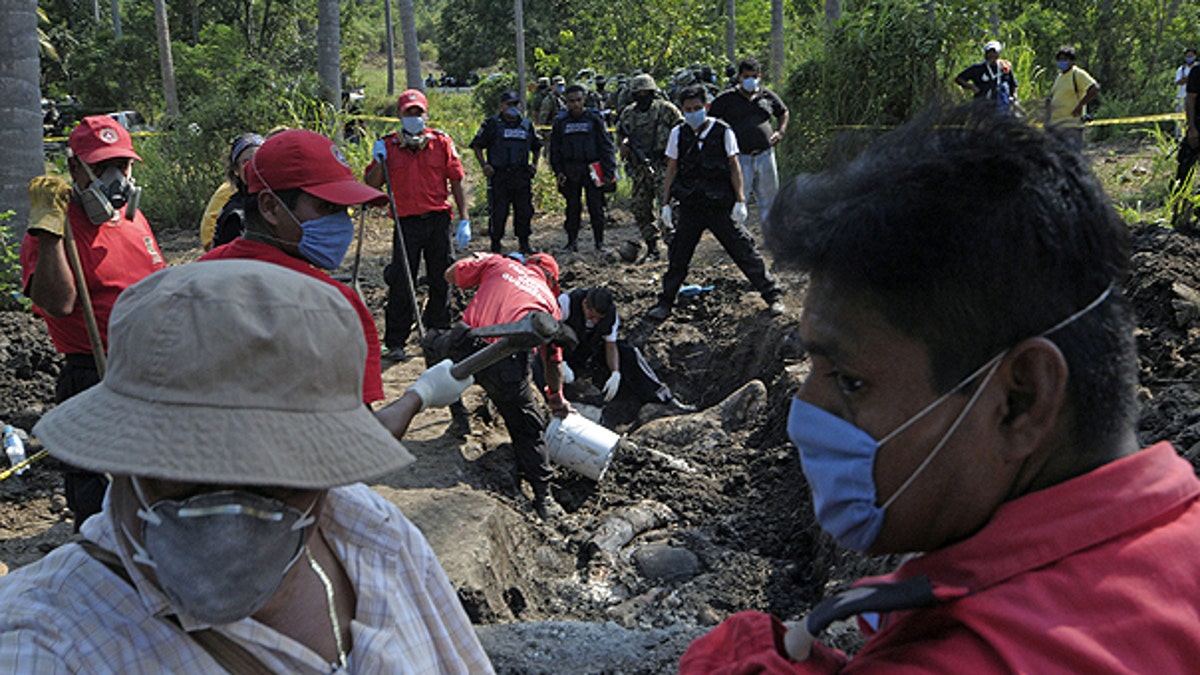 ACAPULCO, Mexico -- Relatives confirmed that 18 bodies found in a mass grave outside Acapulco are those of a group of travelers kidnapped in one of the Mexican resort city's most shocking drug-gang crimes, authorities said Saturday.
The families identified the decomposing bodies through clothing and physical attributes, said Fernando Monreal, director of the federal investigative police in Guerrero state, where Acapulco is located.
The 18 were among 20 men kidnapped while visiting Acapulco from Morelia, capital of the state of Michoacan, which borders Guerrero. Two of the men remain missing.
The mass kidnapping on Sept. 30 is especially horrifying because of the possibility that the men may have been targeted by mistake.
The families of the men, many of them related to each other, have said most were mechanics who saved up money to take a vacation together each year.
Guerrero state investigators have confirmed the men were mechanics and had no criminal records. Investigators also say they could find no evidence linking the men to any gang.
"The only crime they committed was being men and traveling as a group in cars," said Katy Rodriguez, who is acting as a spokeswoman for the relatives. "We insist on their innocence, and the authorities must resolve the case."
Guerrero Attorney General David Sotelo said forensic tests indicated that the 18 men were killed nearly a month ago, shortly after one of their companions reported the kidnapping. The companion told police he had gone to the store and when he returned, his companions were gone and witnesses said armed men had kidnapped them.
Sotelo said federal police were escorting the 18 bodies back to Morelia.
The events that led authorities to the mass grave were also chilling.
A narco-video posted on YouTube last week showed two men -- their hands apparently tied behind their backs and answering questions from an unseen interrogator -- saying they killed "the Michoacanos" and buried them in the town of Tres Palos, outside of Acapulco.
The men say the killings were an act of revenge against La Familia, a drug cartel based in Michoacan.
Authorities found the mass grave in the town of Tuncingo, on the border with Tres Palos. Two bodies wearing the same clothes as the pair seen in the video were found on top of the grave, along with a sign reading: "The people they killed are buried here."
The kidnapping was one of the biggest blows yet to Acapulco, which lies along a disputed drug-trafficking route and has seen an increase in shootouts, beheadings and kidnappings.
The decapitated body of a 30-year-old man was found early Saturday in an Acapulco neighborhood, according to a state police report. Another man was found shot to death and a 27-year-old woman who had been kidnapped last month was found strangled and dumped in a trash bin, a black hood covering her face.