Mexican national pleads guilty in killing of Border Patrol agent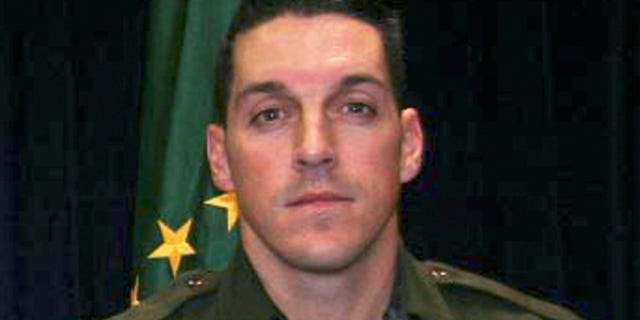 TUCSON, Ariz. – A Mexican man pleaded guilty Tuesday in the killing of a U.S. Border Patrol agent during a 2010 firefight near the Arizona-Mexico border.
The first-degree murder plea on Tuesday by Manuel Osorio-Arellanes, of El Fuerte in the Mexican state of Sinaloa, marks the first conviction in the December 2010 death of Agent Brian Terry.
Osorio-Arellanes faces up to life in prison.
Two rifles bought by a gun-smuggling ring that was being monitored by the government's botched investigation known as "Operation Fast and Furious" were found at the shooting scene.
Authorities have declined to say whether the murder weapon was linked to an Operation Fast and Furious purchase.
They also declined to reveal which of the five men charged in Terry's death had fired the fatal shot.
Osorio-Arellanes was shot during the gunfight and has been in custody since the night of the shooting. The FBI said Osorio-Arellanes told investigators that he raised his weapon toward the agents during the shootout but didn't open fire.
Of the four other men charged in Terry's death, one is in custody, while three others remain fugitives. Authorities have offered a $1 million reward for information leading to their capture.
Operation Fast and Furious was launched in 2009 to catch trafficking kingpins, but federal agents lost track of about 1,400 of the more than 2,000 weapons -- including AK-47s and other high-powered assault rifles.
Some of the guns purchased illegally with the government's knowledge were later found at crime scenes in Mexico and the U.S.
Critics have hammered federal authorities for allowing informants to walk away from Phoenix-area gun shops with weapons, rather than immediately arresting suspects and seizing firearms.
Investigators say the two guns found at the scene of the Terry shooting were bought by a straw buyer for a smuggling ring suspected of purchasing guns for the brutal Sinaloa cartel.
Jaime Avila, 25, has admitted in court to buying the two guns and has pleaded guilty to gun charges in a smuggling case that's separate from the prosecution into Terry's death.
Avila, who isn't charged in Terry's death, faces up to 10 years in prison when he's sentenced on Dec. 12.