Mexican Gunman To Spend 58 Years Behind Bars For 2009 Killing Of Border Patrol Agent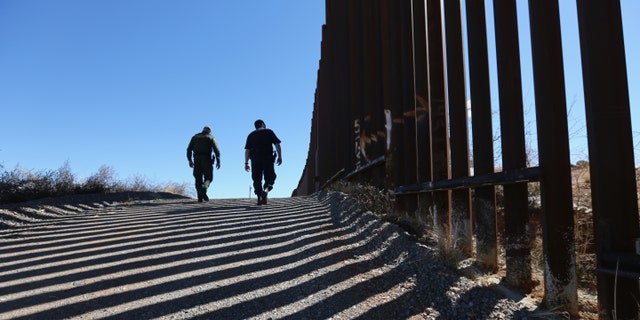 SAN DIEGO – One of three gunmen who lured a U.S. Border Patrol agent into a trap in 2009 to steal his night-vision goggles, then fatally shot him, was sentenced last week to 58 years in federal prison.
Marcos Rodriguez-Perez, 29, was arrested by Mexican authorities on April 11, 2011, in Tijuana and extradited to San Diego six months later to face prosecution for the July 23, 2009, killing of Border Patrol agent Robert Rosas Jr., the father of two young children.
Rodriguez-Perez pleaded guilty in August to conspiracy to commit robbery and kidnapping, robbery, and use of a firearm during the commission of a crime of violence.
U.S. District Judge M. James Lorenz sentenced the defendant to 56 years for Rosas' killing and an additional two years for violating his supervised release on an earlier immigrant smuggling case.
Rosas' widow, Rosalie, spoke directly to the defendant, flanked by her son, who was 2 years old when his father was killed.
"I wish I could tell you that I hate you, but I don't," she said. "I hate what you did. I have no choice but to forgive you."
The widow told the judge that justice would mean life behind bars for Rodriguez-Perez.
Assistant U.S. Attorney Peter Ko said the defendant would likely never get out of prison.
Lorenz, who had the power to throw out the plea bargain, decided to uphold it in order to bring some closure to the case.
"I think this case needs some finality," the judge said.
Lorenz said the case was the worst one he's had in many years, calling it "horrendous" and saying the Rosas was the victim of an "assassination."
Rosas' oldest sister, Sylvia Rubio, held up a photo of her brother and his family, showing the defendant "what he has destroyed."
She added: "There's a huge void that has been left in my heart."
Border Patrol Division Chief Mark Moody, who at the time was in charge of Rosas' unit in Campo, said he was devastated by Rosas' death.
"That was my station. That was my agent. I felt I let them down," Moody said.
Rodriguez-Perez admitted that he and four others — Jose Juan Chacon- Morales, Jose Luis Ramirez-Dorantes, Christian Daniel Castro Alvarez and Emilio Samyn Gonzalez-Arenazas — traveled by car and by foot to a remote area on the Mexican side of the U.S.-Mexico border near Campo.
According to court documents, all five were carrying firearms and, once at the border, entered into an agreement to rob a U.S. Border Patrol agent of his night-vision device.
As Rosas arrived in the area, Rodriguez-Perez entered the United States with Castro-Alvarez and Gonzalez-Arenazas through a hole in the border fence, while the other two defendants stayed in Mexico and stood watch.
After Rosas got out of his vehicle, he was detained at gunpoint by Rodriguez-Perez, Castro-Alvarez and Gonzalez-Arenazas.
Rosas resisted, and during the ensuing struggle, the three armed men fired multiple shots at the border agent. The trio then stole Rosas' bag, firearm, handcuffs and night-vision device and fled back to Mexico, authorities said.
Castro-Alvarez, Gonzalez-Arenazas and Ramirez-Dorantes have all pleaded guilty, while Chacon-Morales remains a fugitive. Castro-Alvarez was given a 40-year term, and Gonzalez-Arenazas and Ramirez-Dorantes are awaiting sentencing.
For more stories go to fox5sandiego.com
Follow us on twitter.com/foxnewslatino
Like us at facebook.com/foxnewslatino