Mexican government apologizes for deaths after police handed youths over to ruthless drug gang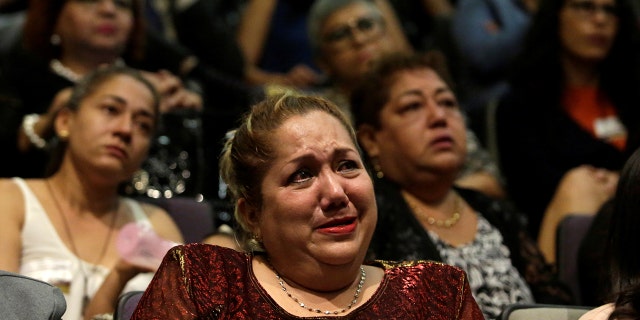 Mexican government officials offered a rare apology to the families of four innocent boys and one girl who were kidnapped by corrupt police officers and turned over to a brutal drug gang after mistaking them for members of a rival gang.
The five youths – identified as Bernardo Benitez, Jose Benitez, Susana Tapia, Mario Arturo Orozco and Jose Alfredo Gonzalez – were on their way home from a birthday party on January 11, 2016 when they were stopped by local police in the Gulf state of Veracruz, one of Mexico's most violent states that has seen an increase in deadly turf wars among increasingly splintered criminal cartels.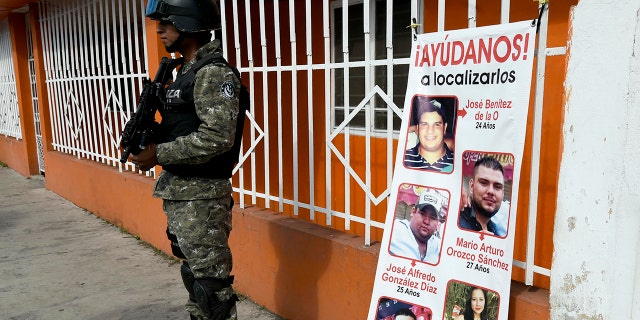 The corrupt police officers, colluding with the notoriously violent Jalisco New Generation Cartel, were of the mistaken belief that the youths had ties to a rival gang and turned them over to the cartel. They were murdered and their bodies incinerated, according to preliminary findings.
Some of their remains were identified four days later in a mass grave about 37 miles from where the five friends were first stopped.
The grave at Rancho El Limon also contained the remains of hundreds of bodies and is thought to have been a dumping ground used by drug cartels and corrupt police officers, the BBC reported.
KIDNAPPINGS, MURDERS ON THE RISE IN MEXICAN STATE WHERE WOMAN WAS DECAPITATED: 'THERE IS A LOT OF SUFFERING GOING ON'
On Monday, Alejandro Encinas, the deputy interior minister of human rights, acknowledged the state's "profound responsibility" and vowed to revive the investigations into the case in which eight police officers were among the 21 suspects so far arrested, Reuters reported.
"We know that organized crime works with government officials at all levels," Encinas said at the event attended by family members at Mexico City's Museum of Memory and Tolerance.
No senior Veracruz security officials have been investigated in the case, a point criticized by the families.
Cuitlahuac Garcia, Veracruz's newly sworn-in governor, apologized to the relatives of the five murdered youths, saying that the "collusion between police and organized crime wasn't stopped in time."
Garcia, who was sworn in on December 1, has launched an emergency plan to drive down the number of disappeared and requested help from international organizations to find those missing.
MEXICAN BUSINESSWOMAN DECAPITATED AFTER 'FAMILY WOULDN'T PAY' RANSOM, REPORTS SAY
Bloody turf battles among increasingly splintered criminal cartels have left more than 40,000 people missing in the past two decades, as well as around 26,000 unidentified corpses in over 1,100 mass graves, according to official data.
Cartels fight to control trafficking routes, human smuggling, extortion, and kidnapping, among other activities.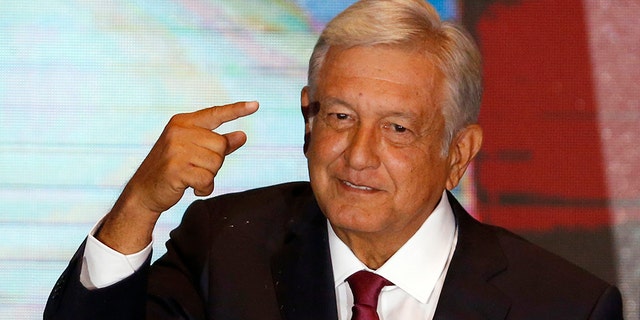 Last month, local reports claimed there had been at least 366 murders in Veracruz in the first 80 days since Garcia – and new President Andres Manuel Lopez Obrador – took office. That is more than 4.5 murder each day.
Lopez Obrador has launched a campaign aimed at persuading people not to break the law. Its slogan is: "We're all going to behave."
There were also at least 69 reported kidnappings over the same period. It was the highest across Mexico with the State of Mexico (Edomex) and Mexico reporting 63 and 32 kidnappings respectively, a nonprofit organization revealed last month.
Fifty-one of the kidnappings in Veracruz happened in the month of January, Alto al Secuestro reported.
CANCUN CLUB SHOOTING LEAVES 5 DEAD, 5 WOUNDED, AUTHORITIES SAY
Mexican government figures from January showed that homicide cases in Mexico rose by 15 percent in 2018 – with 28,816 investigations opened last year, compared to 25,036 the previous year. Each of these cases may have involved more than one victim, so the total number of homicides is likely to be higher.
On Monday, relatives of the Veracruz youths said the government's apology was the first recognition that they were victims and not criminals as officials initially asserted when they went missing.
"More than anything, we want to reclaim the good name of our kids ... and demand justice for them and for thousands of others who experience the same thing," Columba Arroniz, a mother of one of the dead, told Reuters with tears streaming down her face.
CLICK HERE TO GET THE FOX NEWS APP
The U.S. Department of State issued a travel advisory for Americans visiting Mexico last year, saying to exercise increased caution due to crime. While five Mexican states – including Michoacan and Sinaloa – are listed as places not recommended for travel, the advisory for Veracruz has no restrictions.
This case resembles that of 43 students who disappeared from the town of Iguala in 2014 after being seized by local police in Guerrero, who handed them over to a drug gang. To date, the remains of only one of the 43 have been definitely identified.