Mexican authorities say alleged drug boss Hector Beltran Leyva caught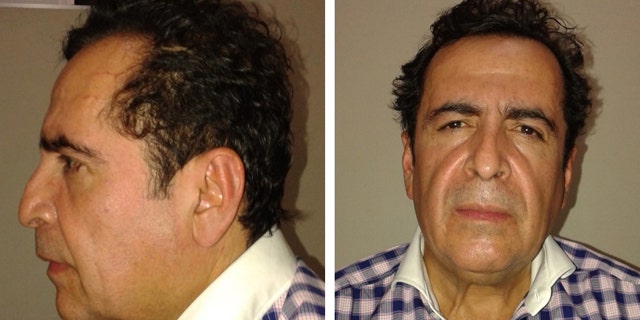 MEXICO CITY – Military special forces grabbed alleged cartel leader Hector Beltran Leyva during a lightning raid at a restaurant Wednesday, the latest in a string of high-profile drug arrests in the country.
Officials said the purported head of the Beltran Leyva drug gang was captured inside a seafood eatery in the city of San Miguel de Allende, a popular enclave for foreigners and artists in the central state of Guanajuato.
No shots were fired in the brief operation, which culminated an 11-month investigation, federal criminal investigations chief Tomas Zeron said at an evening news conference.
The arrest comes just months after the capture of Joaquin "El Chapo" Guzman, the elusive boss of the Sinaloa cartel, which is considered the most powerful drug gang in Mexico. He was caught in February after more than a decade on the run following his escape from prison.
Mexican authorities say Hector Beltran Leyva, 49, assumed leadership of the Beltran Leyva cartel after his brother Arturo was killed by Mexican troops in a shootout in late 2009. Two other brothers are behind bars for their involvement in the cartel.
The gang terrorized parts of central Mexico for years, including Morelos state to the south of Mexico City, although it declined somewhat after the brothers' arrests and killing. Last November, the U.S. Treasury Department said the cartel appeared to be reorganizing and regaining some power.
"Obviously this is not the Beltran Leyvas' organization in its strongest moment ... but it continues to be a criminal organization capable of generating localized violence in some states," Mexican security expert Jorge Chabat said.
Zeron said Beltran Leyva had adopted a "moderate profile" after becoming head of the cartel to avoid detection. The investigation determined he had made his home in the central state of Queretaro, where he passed himself off as a businessman selling art and real estate.
He was tracked to San Miguel de Allende and taken into custody along with a man suspected of being involved of the cartel's finances.
Two federal officials told The Associated Press earlier that Beltran Leyva was believed to have been caught, but DNA tests were being done to confirm it. Zeron said those results were still forthcoming, but said it was clear the man was Beltran Leyva. He did not take questions.
"This action proves the effectiveness of the public policy of security and law enforcement to achieve the Mexico at peace that we desire," President Enrique Pena Nieto's verified Twitter account said late Wednesday.
Zeron said the investigation was carried out jointly by various security agencies but the arrest was made by the army, an institution that has come under criticism recently for the June killing of 22 suspected gang members in a town south of Mexico City.
According to the U.S. State Department, Beltran Leyva, alias "The H" and "The Engineer," was born Feb. 16, 1965, in the northern Mexican state of Sinaloa, a cradle of drug trafficking.
He has been indicted in courts in the District of Columbia and New York. U.S. authorities have offered a reward of up to $5 million for information leading to his capture, and Mexico had offered its own bounty of 30 million pesos, about $3.7 million.
U.S. and Mexican authorities say the Beltran Leyva gang is responsible for trafficking drugs to the United States and Europe including cocaine, marijuana, heroin and methamphetamine. It was originally part of Guzman's Sinaloa cartel, but broke with that group in 2008.
In August 2012, a U.S. diplomatic car carrying two CIA officials and a Mexican navy captain was attacked by gunmen in Morelos state, and one line of investigation was possible involvement by the Beltran Leyva cartel. Federal Police officers were ultimately found responsible for the attack, and officials recently said there was no evidence they were acting on orders of a criminal gang.
At least nine top Mexican cartel figures have been captured or killed since 2009, including Guzman, who was nabbed in the Pacific Coast resort of Mazatlan.
In 2013, authorities in northern Mexico arrested Miguel Angel Trevino Morales, alias "Z-40," leader of the brutal Zetas cartel. Fellow Zetas leader and founder Heriberto Lazcano Lazcano, alias "El Lazca," was killed by marines the previous year.
Andrew Selee, a Mexico expert at the Wilson Center think tank in Washington, said the Beltran Leyva cartel established a pattern of extreme brutality that has since become the hallmark of other gangs such as the Zetas.
"It's a huge deal to get Hector Beltran Leyva, who took over the most bloodthirsty cartel in Mexico. The Beltran Leyva organization was known for corrupting the upper ranks of government and terrorizing communities," Selee said. "Following on the capture of `El Chapo' Guzman and Miguel Trevino, this is probably the most elusive figure who has still been at large."