Merchant ships accused of North Korea sanctions violations may face UN ban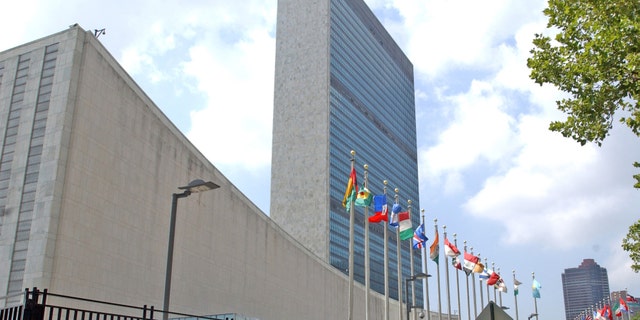 The U.N. Security Council is scheduled to vote Thursday on whether to blacklist 10 merchant ships accused of transporting banned items from North Korea -- in violation of sanctions imposed against the rogue nation in September.
If the council reaches a unanimous decision, countries would have to ban the vessels from entering their ports, Reuters reported.
The ships in question include one each from Hong Kong and Togo, plus three from Panama and four from North Korea. The origin of a 10th vessel was unknown, the report said.
The request to the U.N. body was made by the United States.The U.S. contended that the vessels conducted "illegal ship-to-ship transfers of refined petroleum products to North Korean vessels or illegally [transported] North Korean coal to other countries for exports," the news agency reported.
In September, the U.N. Security Council barred North Korea from importing natural gas and capped its imports of crude oil in response to Kim Jong Un's nuclear missile program.
South Korean researchers at the Institute for National Security Strategy expect the Hermit Kingdom to feel the impact of the sanctions by March, which would leave many in the country struggling to survive, South Korea's Yonhap News Agency reported.
The researchers added Kim might use the 2018 Winter Olympics in South Korea, scheduled for February, to strike a dialogue.
In an effort to ease tensions with North Korea ahead of the Olympics, South Korean President Moon Jae-in on Tuesday floated the idea of postponing his nation's joint-military exercises with the U.S., which Pyongyang has called a "dangerous provocation" that "may lead to a nuclear war at any moment."
Officials in Seoul on Wednesday said delaying the military exercises would depend on North Korea's behavior during the Olympics, Reuters reported.
However, U.S. Secretary of State Rex Tillerson said Tuesday in Ottawa, Canada, that he had no knowledge of plans to "alter longstanding and scheduled and regular military exercises," Reuters reported.
Last week, Tillerson said the U.S. would be open to talks with North Korea about anything. However, Tillerson changed his tune Friday, saying the country "must earn its way back to the table," while underscoring America's commitment to leading the campaign to keep pressure on the rogue nation.
"The pressure campaign must and will continue until denuclearization is achieved. We will in the meantime keep our channels of communication open," Tillerson said.
The United States and Canada said nations from around the world will meet Jan. 16 to show a unified front against North Korea.
Tillerson will meet with Canadian Foreign Minister Chrystia Freeland, as well as diplomats from Japan, South Korea and India, to discuss increasing pressure on North Korea to curb its nuclear ambitions.
Fox News' Katherine Lam and the Associated Press contributed to this report.