Marine held in connection with probe into murder of transgender Filipino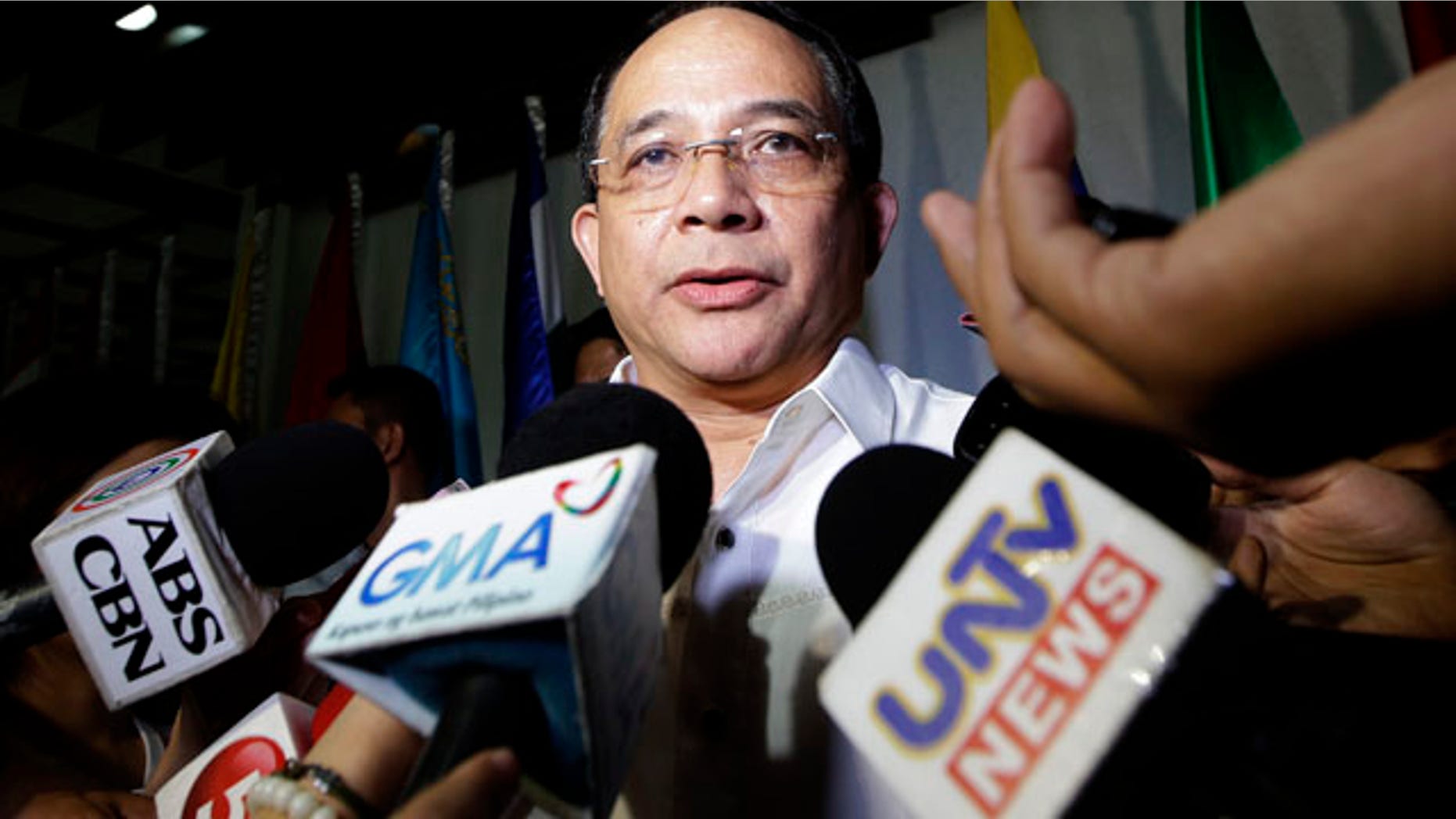 MANILA, Philippines – Dozens of activists burned a mock U.S. flag as they protested at the U.S. Embassy in Manila on Tuesday, demanding that Washington hand over to the Philippines a Marine implicated in the killing of a transgender Filipino that the demonstrators labeled a hate crime.
Jeffrey Laude, 26, was found dead, apparently strangled and drowned, beside a toilet bowl in a motel room in Olongapo city, northwest of Manila, shortly after he checked in with a Caucasian man late Saturday. The foreigner, who escaped, was described by witnesses as a U.S. Marine who had met the victim in a bar, police said.
U.S. Marine spokesman Col. Brad Bartelt said a Marine was being held on board the USS Peleliu in the Subic Bay free port, about 80 kilometers (50 miles) northwest of Manila, in connection with a joint U.S. Navy and Philippine police investigation into Laude's death.
About 3,000 U.S. Marines and Navy sailors concluded two weeks of military exercises with Filipino counterparts Friday and were to leave the Philippines this week.
But Foreign Secretary Albert del Rosario said he was assured by U.S. Pacific commander Adm. Samuel Locklear, who was in Manila for security talks with Philippine defense officials, that the Peleliu and other Navy ships would stay in the Philippines pending an investigation into the killing.
The thorny issue emerged amid a blossoming of security ties between the United States and the Philippines, which have both been vocal critics of China's expansive territorial claims in the South China Sea. The longtime military allies signed a new accord in April that allows greater U.S. military access to Philippine military camps across the country.
Police said that Laude's attacker may have been angered when he discovered in the motel room that Laude was a transgender individual or because of an argument sparked by other reasons.
On Tuesday, about 40 young activists waved red flags and yelled "U.S. troops out now," in a protest that ended with the burning of a mock American flag at the heavily secured U.S. Embassy. Riot police stopped them from getting close to the heavily fortified seaside compound.
Two protest leaders tearfully demanded that the U.S. military hand over the Marine to the Philippine government, adding that he should be detained in a local jail.
"This is just so abominable. It's one of the worst hate crimes I've seen," said Corky Hope Maranan, a leader of a group of transgender and lesbian Filipinos.
"If he remains in U.S. custody, certainly he can escape from our justice system again. We don't want another Daniel Smith," Maranan said.
Smith was a Marine who was found guilty and sentenced to life in prison for raping a Filipino woman after a night of drinking in 2005, also at the Subic free port. He spent only about three weeks in a Philippine jail before U.S. officials obtained custody, arguing that the Visiting Forces Agreement between the two countries allowed them to hold the Marine until his legal appeal was resolved.
A Philippine appeals court overturned Smith's conviction in 2009, allowing him to leave the country.