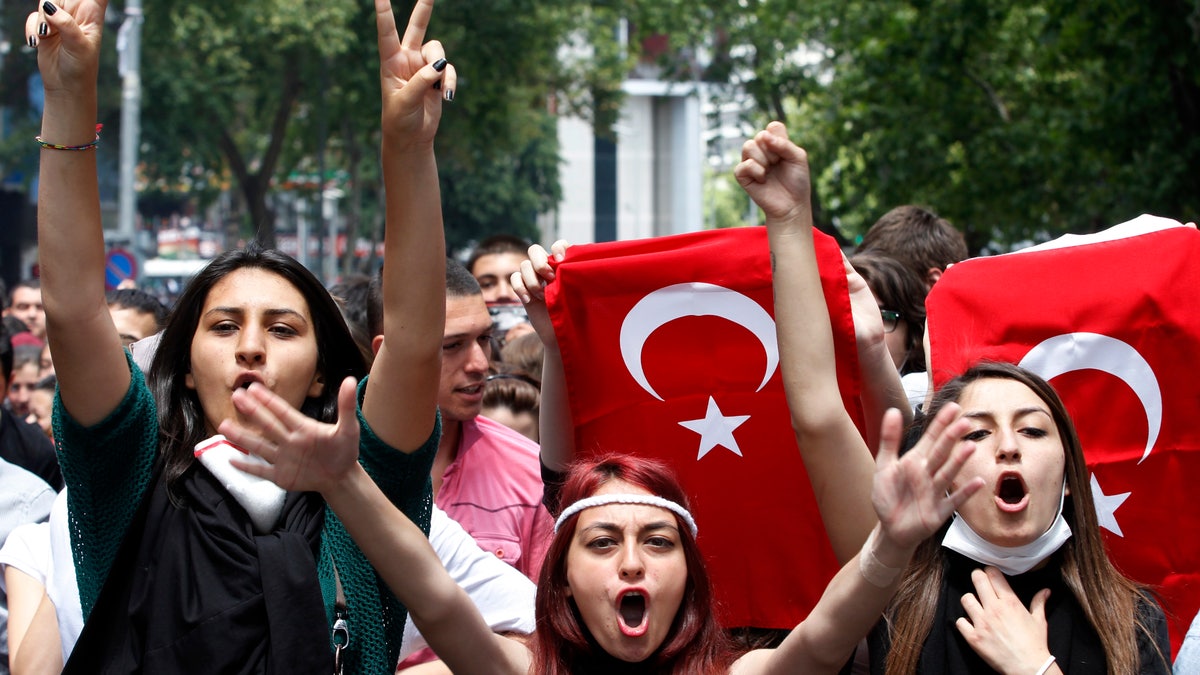 ANKARA, Turkey – A 22-year-old man died during an anti-government protest in a city near the border with Syria and officials gave conflicting reports on what caused his death, as hundreds of riot police backed by water cannons deployed around the prime minister's office in the capital Tuesday.
Thousands have joined anti-government rallies across Turkey since Friday, when police launched a pre-dawn raid against a peaceful sit-in protesting plans to uproot trees in Istanbul's main Taksim Square. Since then, the demonstrations by mostly secular-minded Turks have spiraled into Turkey's biggest anti-government disturbances in years, and have spread to many of the biggest cities.
The Hatay province governor's office said the man, Abdullah Comert, died in a hospital after he was shot Monday during a demonstration in the city of Antakya. It suggested, however, that he may have been shot by demonstrators trying to inflame tensions, saying police had been fired on during the protest.
But the province's chief prosecutor said that an autopsy showed Comert received a blow to the head and there was no trace of a gunshot wound. It said authorities had launched an investigation into the death.
Clashes continued late into the night Monday in Istanbul, Ankara and other cities, as people voice their discontent with the 10-year rule of Prime Minister Recep Tayyip Erdogan.
The Turkish Human Rights Association said some 3,300 people nationwide were detained during four days of protests, although most had since been released. At least 1,300 people were injured, the group said, although it said the true figures were difficult to come by.
On Tuesday, hundreds of riot police backed by water cannons were stationed around Ankara's main square near the prime minister's office.
In an attempt to defuse the tensions, President Abdullah Gul held a meeting in Ankara with the deputy prime minister, Bulen Arinc.
Gul has praised the mostly peaceful protesters as expressing their democratic rights. Erdogan, meanwhile, has rejected the protesters' demands for his resignation and dismissed the demonstrations as the work of Turkey's opposition.
Gul and Erdogan could face off next year in Turkey's presidential election.