Man beaten by Portuguese policeman at soccer game alleges aggravated assault in complaint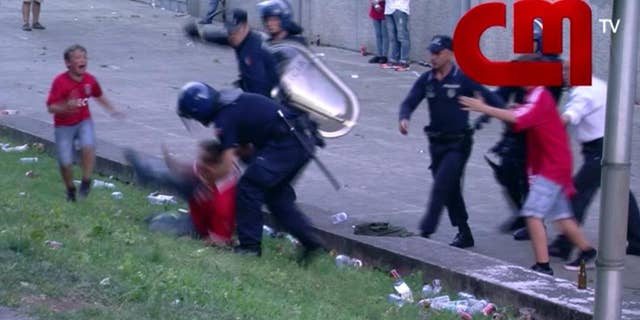 LISBON, Portugal – The lawyer representing a man and his elderly father who were beaten by a Portuguese police officer says she has filed complaints accusing the officer of aggravated physical assault.
The alleged offenses carry a combined maximum sentence of eight years in prison.
Lawyer Sonia Carneiro told the AP on Friday the two complaints are on behalf of Jose Magalhaes and his 66-year-old father.
Live video of the officer beating Magalhaes with a truncheon outside a Portuguese soccer stadium Sunday, and also punching his father, triggered a scandal in Portugal.
Magalhaes's sons, aged 9 and 13, witnessed the incident but were not hurt.
The police, the public prosecutor and the government have all opened investigations into the officer's conduct.