Man arrested after car rams gates at Royal Air Force base used by US, reports say
A man was arrested after he allegedly rammed his car into the gates at a Royal Air Force base used by the U.S. Air Force on Monday that prompted a brief lockdown and personnel to open fire.
Royal Air Force Mildenhall in Suffolk was placed on lockdown about 1 p.m. after a "significant incident" was reported, police said. The Pentagon urged people to avoid the area until the lockdown was lifted about an hour after the incident began.
A Ministry of Defense (MoD) source told Sky News a man rammed his car into the base's gates while attempting to force his way through.
"Shots were fired by American service personnel and a man has been detained with cuts and bruises and taken into custody," Suffolk police said in a statement.
RAF Mildenhall wrote on its Facebook page it received "reports of a disturbance" and urged people to avoid the area.
The suspect was the only person injured in the incident. Suffolk police said there is "no wider threat" to the public and no other suspects are being sought.
The base is located about 80 miles north of London. The U.S. has air-refueling assets stationed at the base.
The base is home to the U.S. Air Force's 100th Air Refueling Wing, which is responsible for American refueling operations across Europe. Other units, including the 501st Combat Support Wing, the 352nd Special Operations Wing and the 95th Reconnaissance Squadron are also stationed there.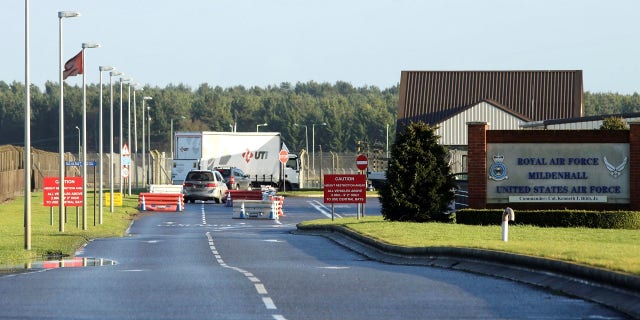 While it's not clear what promoted the incident on Monday, RAF Mildenhall and RAF Lakenheath, another U.S. base next to it, have both been subjected to terror threats over the past few years, according to Sky News.
Last year a British-born "committed supporter" of the Islamic State terror group was sentenced to life in prison for planning a terrorist attack on five U.S. Air Force bases in the UK, including RAF Mildenhall.
The Associated Press contributed to this report.