Long lines for holiday travelers along U.S.-Mexico border in Arizona despite BP efforts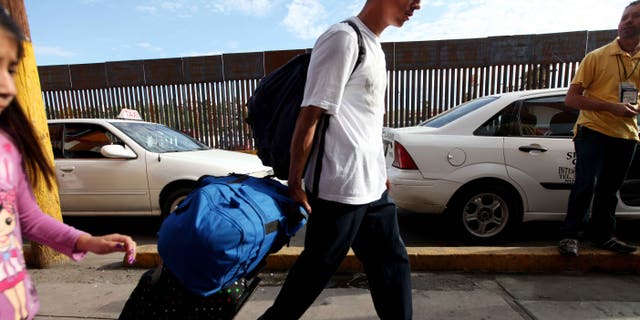 TUCSON, Ariz. (AP) – It's not uncommon to find someone griping on social media about the long waits to cross into the U.S. from Mexico during the holiday season.
An Arizona woman this week posted a dark photo of a stream of cars waiting to cross, saying she'd been waiting an hour already at the Mariposa Port of Entry in Nogales and expected to wait another one.
Ports of entry are notoriously busy from Thanksgiving through the new year, and many wait for hours to get into the U.S.
Crossers included Mexicans who come to shop or visit relatives in the U.S. as well as Americans coming back from visiting family in Mexico.
In Nogales, the U.S. Customs and Border Protection has opened a new office to help expedite travel applications for some Mexican nationals coming to the U.S.
"This 'Front of the Line' service will provide Trusted Travelers a faster and more efficient I-94 process by using a dedicated processing station at the DeConcini and Mariposa crossings," CBP said in a news release.
But that doesn't mean most travelers will get through quickly.
CBP has a 20 percent staffing shortage at its Arizona ports of entry.
The agency and local government officials have made a big push to fill the 170 new positions allocated to Arizona last year. For example, officers from the Office of Field Operations were on hand at a job fair last month organized by the Tucson mayor.
The renovated Mariposa Port of Entry, which has eight commercial lanes and 12 for passenger vehicles, has helped clear up long waits, but they persist during the holidays.
Travelers can do their share to prepare for the commute: They can look up wait times online or through a mobile app. CBP recommends drivers get off their phones as they approach officers.
The agency also says travelers should build extra time into their trips during the holidays and prep for inspections before arriving at an inspection booth, with crossing documents available.
Mexican tourists spend about $2.6 billion in Arizona each year, according to the Arizona-Mexico Commission.