London Underground terror suspect had ISIS material on phone, prosecutors say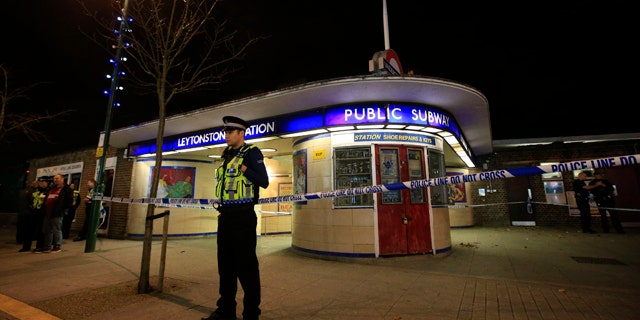 A man who allegedly screamed "this is for Syria" as he slashed a passenger's neck in a London subway station had images associated with the Islamic State group on his mobile phone, prosecutors said Monday.
Muhaydin Mire, who has been charged with attempted murder, also allegedly had images relating to the Nov. 13 gun and bomb rampage in Paris and a recent British police anti-terrorism training exercise.
Prosecution lawyer David Cawthorne told a court hearing Monday that prosecutors allege Saturday's knife attack at Leytonstone Underground station was an act of terrorism. Authorities in Great Britain have stepped up security at transportation hubs around the country.
Sky News reported that British Transport Police would deploy extra uniformed and plainclothes officers to "identify and deter" terrorism after the Saturday night attack.
"We ask the public to remain calm and carry on using public transport as normal," BTP Chief Constable Mark Newton told Sky.
Like many other European countries, authorities in Britain are already on edge after ISIS attacks in Paris last month left 130 people dead. The last extremist attack in Britain was in May 2013, when two British-born, Al Qaeda-inspired extremists stabbed an off-duty soldier to death on a busy London street.
In Saturday's attack, one man suffered serious knife injuries and was in the hospital in stable condition. Another man received minor injuries, while a woman was threatened but not hurt.
Video shot by witnesses at the scene showed a pool of blood on the station's floor as the suspect was seen lunging at several police officers who tried to subdue him. He was then pinned down after a stun gun was used.
One bystander can be heard shouting at the suspect: "You ain't no Muslim, bruv." The phrase, using slang for "brother," was quickly picked up by Twitter users who turned it into a trending hashtag to show their contempt for the suspect and extremism.
Salim Patel, who runs a shop at the station, told reporters the suspect punched and kicked a man before stabbing him.
"I saw the guy attacking the victim, punching him so hard. The victim was screaming 'please somebody help me. Help'," he said. "Then the attacker started kicking him on the floor ... the attacker took a knife out and started stabbing him as he lay on the floor."
Britain's national terrorism threat level remains at "severe," meaning that authorities believe an attack is highly likely.
The Associated Press contributed to this report.