London police release more photos of jogger who pushed woman in front oncoming bus
NEWYou can now listen to Fox News articles!
London's Metropolitan police released additional photos of the jogger who pushed a woman in front of an incoming bus.
The latest CCTV photos come nearly four months after the 33-year-old woman was suddenly pushed onto the road by a stranger as she walked across Putney Bridge in west London.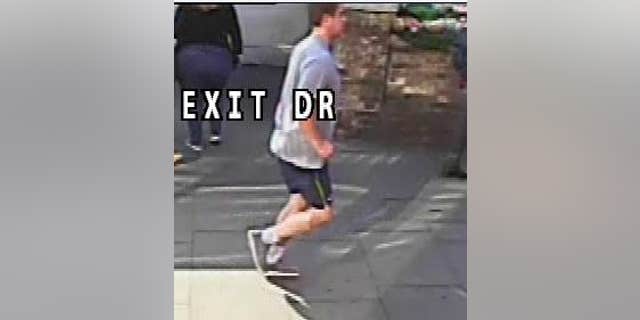 The photos were taken by a passenger on the bus as the jogger passed it. The bus narrowly avoided hitting the woman seconds later.
"Images of this alarming incident have been circulated widely and we continue to work through the information received to identify the man responsible," Det. Sergeant Chris Griffith said in a statement. "We are grateful to those who have assisted so far."
The jogger is described as a white man in his 30s with brown eyes and short brown hair. During the incident, he was wearing a light gray T-shirt and dark blue shorts with gray running shoes.
Police said that about 15 minutes after the May 5 incident, the jogger returned to the bridge. The woman tried to speak to him, but he did not acknowledge her and continued jogging.
An American banker, identified by local media outlets as 41-year-old Eric Bellquist, was arrested last month in connection to the incident but he was cleared from any wrongdoing and released.
His lawyers said in a statement that they could prove he was in the United States at the time of the incident.
A second man, also 41 and who has not been named, was also arrested and released with no further action.