A campaign has been set up to crowdfund a counter-protest to the "Trump baby" blimp due to fly over London when President Trump visits next week -- with demonstrators aiming to launch an equally giant balloon of Trump foe and London mayor Sadiq Khan.
The 19-foot Trump balloon is set to fly over British parliament next Friday during the President's three-day trip after Khan, a frequent Trump critic, gave his approval, with a spokesperson saying the mayor "supports the right to peaceful protest and understand that this can take many different forms."
As a result, Yanny Bruere, originally from Northampton in the U.K. but now living in Spain, is aiming to raise enough money to fly a "baby Khan" balloon. The campaign has already raised almost $24,000, nearly 90 percent of its target.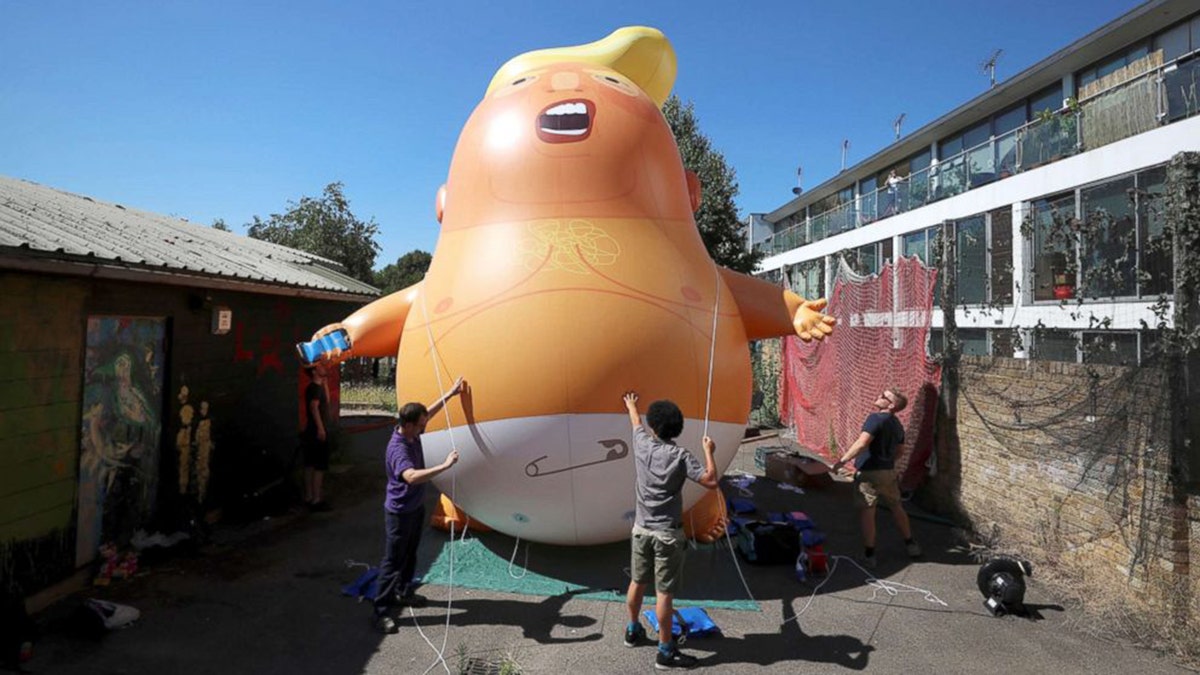 "In light of the Donald Trump 'Baby Trump' ballon [sic] being allowed to fly over London during his visit to the U.K., let's get a 'baby Khan' one and see if FREE SPEECH applies to all and whether or not Mr Khan and the London assembly will also approve this," a statement on the crowdfunding site reads.
'TRUMP BABY BLIMP GETS OK TO FLY OVER LONDON DURING TRUMP'S VISIT
"Under Sadiq Khan, we have seen crime sky rocket to unprecedented levels. People in London don't feel safe and they aren't safe, 81 murders this year alone! Khan out."
London's Metropolitan Police launched its 81st murder investigation at the end of June after a 20-year-old man was stabbed to death. The incident came hours after Metropolitan Police Assistant Commissioner Martin Hewitt warned that "feral" knife attacks, where victims are stabbed several times, are driving up the murder rate in the British capital.
The 20-foot anti-Trump balloon, which has been set up by a group describing itself as anti-fascist "art activists," was given the go-ahead after thousands signed a petition and raised more than $30,000. It must be tethered to the ground from Parliament Square Gardens and cannot fly higher than 98 feet, according to Sky News.
Opinions about the balloon have been divided, with some finding it amusing, but others, including Brexit leader Nigel Farage, claiming it is the "biggest insult to a sitting U.S. president ever."
Speaking on his LBC radio show, Farage said: "Let me ask you, does any of you seriously think that if an application to fly an Obama blimp, of Obama as a young, crying baby above Parliament Square when he came here during the referendum to tell us to vote remain, do you actually think that would have been allowed?"
He added: "You can't stop people from protesting, expressing their opinion, but I do think there's a never ending war of words, and it does cut both ways because the President invites a fair bit of it. But this never ending war of words between Sadiq Khan and Donald Trump is frankly ridiculous."
Trump and Khan have frequently taken shots at each other, beginning last June when the president accused Khan of having a "pathetic" response to the London Bridge terror attack, which resulted in eight deaths and 48 injuries.
Huge protests are expected when Trump arrives in Britain next week for his first visit since winning the 2016 election.
Trump is "aware" of the planned protests, according to Woody Johnson, the U.S. ambassador to Britain.
"But you know, the president is keenly focused on what his objectives are. He appreciates free speech, both in this country and in our country. It's one of the things that binds us together, the freedoms that we share," Johnson said in a conference call, according to the Daily Mail.
The president will not make any public appearances in London amid suggestions up to 50,000 could march in the capital.
Trump will instead have dinner at Blenheim Palace in Oxfordshire, with Prime Minister Theresa May on Thursday night, before having tea with the Queen at Windsor Castle and then talks with May at her country retreat, Chequers, according to the Daily Mail.
Trump will also head on to Scotland, where he owns two golf courses.
Fox News' Katherine Lam also contributed to this report