Lion kill furor grows: US officials seek to interview hunter dentist, White House gets extradition petition
Where in the world is Walter Palmer?
That's what officials on two continents want to know as they investigate the Minnesota dentist's killing of a beloved African lion amid a growing international outcry that now has reached the White House.
U.S. Fish and Wildlife Service investigators reportedly have visited Palmer's home and office to question him about the killing of Cecil, a lion who had a rare black mane and who was made famous in Zimbabwe tourist campaigns.
Ed Grace, chief law enforcement officer for Fish and Wildlife told the Washington Post the Service had made repeated attempts to try and get in contact with Palmer.
A Fish and Wildlife spokesperson issued this statement Friday afternoon: "Late yesterday afternoon the U.S. Fish and Wildlife Service Office of Law Enforcement was contacted by a representative of Dr. Walter Palmer. The Service's investigation is ongoing and appreciates that Dr. Palmer's representative voluntarily reached out to the Service."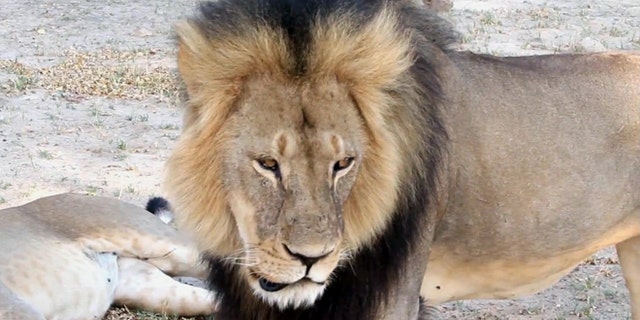 Fish and Wildlife had offered to assist Zimbabwe in its investigation. Grace also told the newspaper that Fish and Wildlife had "convicted [Palmer] for lying about a bear kill" in Wisconsin in 2009. Though Palmer's lion kill took place in Zimbabwe, he still could be in trouble in the U.S. if it is found that he violated the Lacey Act, an animal protection law that also applies to Americans who violate the animal rights laws of other nations.
Zimbabwe, meanwhile, is asking for Palmer to be extradited for questioning after it was alleged that Palmer illegally lured Cecil off a government reserve in Hwange Park during a night hunt, and wounded him with a bow and arrow. The non-governmental group Zimbabwe Conservation Task Force alleges that Palmer then hunted the wounded animal and, in spite of Cecil wearing a GPS tracking collar, killed him.
The White House, meanwhile, was drawn into the international uproar Friday when a whitehouse.gov petition calling on Attorney General Loretta Lynch and Secretary of State John Kerry to extradite Palmer to Zimbabwe far passed the 100,000 signatures needed to require a response. White House spokesman Josh Earnest, in acknowledging the petition, said any decisions about prosecutions and extraditions are made at the Department of Justice, not the White House.
Palmer's hunting guide, meanwhile, reportedly claimed the dentist also wanted to shoot a large elephant on the ill-fated hunting trip.
Theo Bronkhorst told The Daily Telegraph that after killing Cecil, Palmer asked the guide if he could locate an elephant whose tusk weighed more than 63 pounds, "which is a very large elephant."
"I told him I would not be able to find one so big, so the client left the next day," Bronkhorst told the newspaper.
Zimbabwean prosecutors have charged Bronkhorst with killing a lion not authorized to be hunted. If convicted, Bronkhorst faces up to 15 years in prison.
Prosecutors have yet to charge a second suspect, farm owner Honest Ndlovu, who had been named as an accomplice and appeared in court Wednesday.
Bronkhorst also told the Telegraph that Palmer's party never intended to hunt on the farmland where Cecil was killed, which is adjacent to a national park. He said he group was late getting started on the day's hunting because Palmer's luggage was late in arriving.
"At the last minute I had to divert from a [hunting] concession about eight miles away," Bronkhorst said.
The Zimbabwe Conservation Task Force allege that Zimbabwean men helping in the hunt tied a dead animal to their car to draw the lion out of a national park.
Bronkhorst told the Telegraph he first saw Cecil at around 10 p.m. on the night of July 1, describing him as "a magnificent animal." He said Palmer fired an arrow at the lion, who then disappeared into some tall grass.
"Bow and arrow wounds are different to gun wounds, and they don't show much. But we couldn't do anything that night," Bronkhorst said. The hunters returned the next day, when Bronkhorst says Palmer killed Cecil. Only then, when hunters examined the lion's carcass, did they notice Cecil's collar.
"I was devastated," Bronkhorst said. "I could not have seen the collar at night. We would never shoot a collared animal. I was devastated, and so was [Palmer], we were both upset, and I panicked and took it off and put it in a tree.
"I should have taken it to [the Zimbabwe Parks and Wildlfe Management Authority], I admit that. ... We took the head and skin, as the client had paid for the trophy.
Using bait to lure the lion is deemed unethical by the Safari Operators Association of Zimbabwe, of which Bronkhorst is a member. The association has since revoked his license.