Libyan militants claim to have taken control of Tripoli's main airport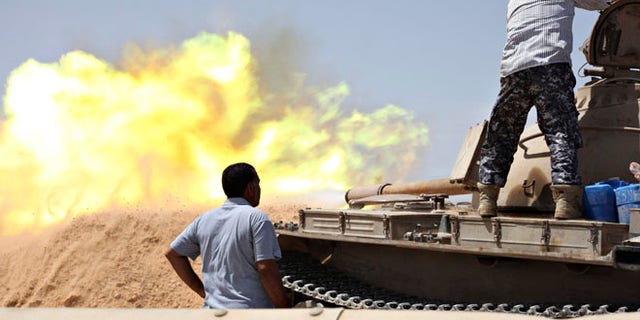 Islamic militants from the Libyan Dawn coalition claimed Saturday to have seized Tripoli's main airport after over a month of clashes with nationalist forces.
Pictures on social media showed coalition fighters from the Libyan city of Misrata celebrating at the terminal building of Tripoli International Airport and standing on civilian planes while Arab channels Jazeera and Al-Arabiya also said Misrata forces were in control of the airport, Reuters reported.
If confirmed, the taking of the major airport would be a significant development in the battle for Tripoli.
Libya is witnessing its worst spasm of violence since Moammar Gadhafi was toppled in 2011. Many of the rebel brigades which helped overthrow the longtime dictator have since been transformed into powerful militias linked to the country's feuding political blocs.
The fighting in recent weeks has largely destroyed the main international airport in Tripoli, which has been closed for two months, and shut down Benghazi's Benina airport, as diplomats and other foreigners have fled the country.
The fighting around the Tripoli airport has pitted the powerful Zintan militia from the western mountains against the Islamist-allied Misrata militia, named for the coastal city where it waged some of the most intense battles of the uprising. The Zintan have recently been joined by one of Libya's largest tribes, the Warshafana, while the Misrata fighters have recruited other militias, including one from Gharyan, a town seen as a gateway to Tripoli.
Earlier this week six people were killed in mysterious airstrikes targeting the Misrata-led militias. The Libyan chief of staff's media office said the jets used "guided bombs" not in the possession of the army.
In Benghazi, the cradle of the 2011 revolt, Gen. Khalifa Hifter has led a campaign against Islamic extremists, including Ansar al-Shariah, blamed for the deadly assault on the U.S. consulate in 2012. Recent days have seen an increase in fighting and airstrikes carried out by Hifter's forces on extremist strongholds.
The Associated Press contributed to this report.