Leicester City owner, 4 others killed in helicopter crash after soccer match, team confirms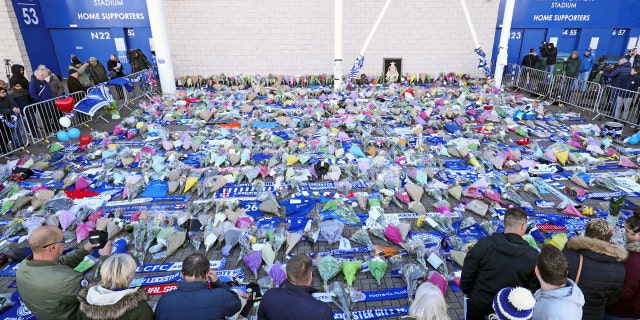 English soccer club Leicester City confirmed Sunday that Thailand-born owner Vichai Srivaddhanaprabha was one of five people killed in a helicopter crash outside the team's stadium following a Premier League match Saturday evening. He was 60 years old.
"The primary thoughts of everyone at the Club are with the Srivaddhanaprabha family and the family of all those on-board at this time of unspeakable loss," the club said in a statement. "In Khun Vichai, the world has lost a great man. A man of kindness, of generosity, and a man whose life was defined by the love he devoted to his family and those he so successfully led."
The club statement did not identify the others on board. However, Leicestershire Police said in a separate statement that the other victims "are believed to be" Nursara Suknamai and Kaveporn Punpare, two members of Srivaddhanaprabha's staff; pilot Eric Swaffer and passenger Izabela Roza Lechowicz. Police said that no other injuries were reported.
An entrepreneur who grew Thailand's massive King Power duty-free chain, Srivaddhanaprabha purchased Leicester City for 39 million pounds ($50 million) in 2010. At the time, the club was in the second division of English soccer. However, Srivaddhanaprabha bankrolled the team's rise to the ultra-rich Premier League, which peaked when Leicester improbably won the title as 5,000-1 underdogs in 2016.
Having accomplished one of the greatest underdog stories in the history of sports, the team based in the Midlands of England is now valued by Forbes at 371 million pounds ($476 million).
Srivaddhanaprabha was a regular at Leicester City matches and the sight of his helicopter taking off from the middle of the field to shepherd him to his English base in suburban Berkshire was a regular occurrence.
However, the tradition turned into a horror show following Saturday's 1-1 draw between Leicester and West Ham United. The chopper appeared to lose power, plummeted into an empty parking lot outside the stadium and burst into flames.
While many foreign owners have been viewed with suspicion by their English club's fans -- for reasons such as a lack of respect for supporters or their club's traditions -- Vichai was held in the highest regard by the Leicester faithful. They showed it during one match late in that 2015-16 season, when their title was secured, with the 32,000-strong King Power Stadium crowd rising to give their chairman an emotional and spontaneous standing ovation.
Vichai became known for his generosity around the club. When Leicester narrowly avoided the threat of relegation to the second tier at the end of 2014-15, he sent "bottle after bottle" of champagne to the dressing room, according to British media reports. He also treated fans in the stadium to a free Thai Singha beer at the end of successful campaigns.
The transformation of Leicester City was in keeping with Vichai's success in the business world, after starting his duty-free interests from modest beginnings.
In 1989, he was granted a license to open Thailand's first downtown duty-free store. Expansion into Thai airports followed, with King Power ultimately granted a monopoly for duty-free stores at all the country's main airports.
Today the King Power empire is worth $4.88 billion, according to Forbes, with Vichai having been the fifth-richest person in Thailand.
His family's empire also included Accor's Pullman hotels in Thailand, and a $226 million stake, bought in 2016, in the country's biggest budget airline, Thai AirAsia. Last year, Vichai also enlarged his soccer interests, buying Belgian second-tier club Oud-Heverlee Leuven.
SAUDI ATTORNEY GENERAL HEADS TO TURKEY AMID KHASHOGGI CONTROVERSY
Vichai's rise in business did not happen without some drama.
The granting of King Power's monopoly status at Thailand's airports -- set in motion in 2004 by the government of since-ousted Prime Minister Thaksin Shinawatra -- caused some controversy.
And this year, King Power has defended itself against a lawsuit lodged by a former anti-graft official alleging it had not paid the government its due share of revenue from its airport franchise. King Power has denied the allegation. While Thailand's main corruption court threw the case out last month, an appeal is reportedly likely.
PITTSBURGH SPORTS TEAMS PAY TRIBUTE TO SYNAGOGUE SHOOTING VICTIMS
Aside from business and soccer, Vichai quickly became a noted polo devotee in England, playing on occasion with Princes Charles and William. He spent millions establishing his polo team, the King Power Foxes, which began in 2014 and has enjoyed success at the top levels of competition in the U.K.
A devout Buddhist who had monks bless the King Power Stadium regularly for good luck, Vichai and his wife, Aimon Srivaddhanaprabha, had four children.
He was born Vichai Raksriaksorn, but in 2012, the king of Thailand recognized his achievements by bestowing on his family their new surname, which means "light of progressive glory."
The Associated Press contributed to this report.