Pittsburgh sports teams pay tribute to synagogue shooting victims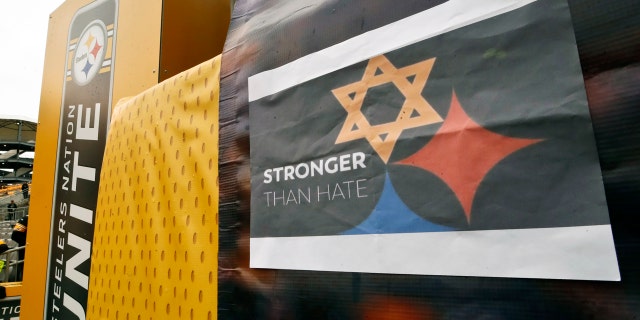 Pittsburgh's professional sports franchises honored the victims of Saturday's deadly mass shooting at a synagogue with a moment of silence and plans for a blood drive and donation collection.
The Steelers observed a moment of silence before Sunday's game against the Cleveland Browns at Heinz Field, which is approximately seven miles west of the Tree of Life Synagogue, where a gunman killed eight men and three women during services.
In a tribute to the victims, a tweak to the Steelers' distinctive logo changed a yellow shape into a Star of David and added the words "Stronger than hate." The image appeared on social media Saturday and at least one child in the stands wore that logo as a patch on his jersey.
In a statement issued before Sunday's game, Steelers owner Art Rooney II said, "Our hearts are heavy, but we must stand against anti-Semitism and hate crimes of any nature and come together to preserve our values and our community."
The Pittsburgh Penguins announced the team would host a blood drive on Monday and collect donations from fans attending Tuesday's home game against the New York Islanders. A moment of silence will be held before the game and the team announced that the previously planned Halloween theme for the game would be canceled.
"The Pittsburgh Penguins join the greater Pittsburgh community in standing up against this senseless violence and supporting the victims and families of the Tree of Life Synagogue," said David Morehouse, president and CEO of the team. "Under these circumstances, we determined it was not appropriate to continue with our annual Halloween theme on Tuesday, so those activities have been cancelled. The entire city has a heavy heart."
The club also announced that the Pittsburgh Penguins Foundation would donate $25,000 to the Jewish Federation of Greater Pittsburgh and another $25,000 to establish a benefit fund with the city's Department of Public Safety for the four Pittsburgh police officers injured in Saturday's shooting.
A moment of silence also was held before the Penguins' road game against the Vancouver Canucks Saturday evening, which Pittsburgh won 5-0.
The Associated Press contributed to this report.