Lawyer says 'blood money' best way to free US man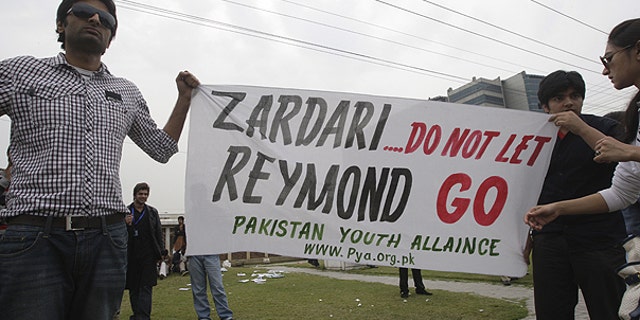 ISLAMABAD – The payment of "blood money" to the heirs of the two men killed by an American CIA contractor in Pakistan is the best way to free him, his lawyer said Friday.
The remarks by Zahid Bokhari were the clearest indication yet that the United States believes that paying compensation may play a role in getting Raymond Allen Davis out of jail and defusing a crisis that has exposed the fragility of ties between Pakistan and the U.S.
But it remains unclear how, or if, this will work.
Relatives of the two victims and a third man killed by an American vehicle rushing to the scene said this week they were not interested in receiving money from the United States. They also said U.S. officials had not contacted them in any capacity.
Davis says he acted in self-defense, while the United States insists he has diplomatic immunity and should never have been detained. Pakistan's weak government has yet to say whether Davis has immunity, apparently paralyzed in the face of media outrage and vocal protests by Islamist parties.
The 36-year-old Virginia native is currently on trial for murder in Lahore.
Bokhari said he would be charged at the next court hearing on March 8.
Asked whether the payment of "blood money" to the families, sanctioned under Pakistani law and a common occurrence here, was a good way out of the crisis, Bokhari said: "That is the best way, not just a good way."
He said U.S. consular officials would handle any such effort.
Islamist political parties, relishing the difficult situation the United States finds itself in, are pressuring the families not to accept any American money. One of the them, Jamat Islami, says it may announce a public cash appeal for them.
The U.S. Embassy has not given details on what it is doing to resolve the crisis, other than say it is working with the Pakistani government.
Bokhari said the court was "in a hurry and under public pressure" to charge Davis, nothing that the Lahore High Court is reviewing petitions on whether he has immunity. He said that if the high court ruled he was immune, he anticipated Davis would walk free.
Some members of Congress, Democrats and Republicans alike, are threatening to cut off development funds to Pakistan if Davis is kept much longer in jail. Obama, seeking to enlist Pakistan's support in helping it fight the Taliban in Afghanistan, has authorized the release of $7.5 billion in aid over five years to shore up the country.
The case has inflamed tensions between the CIA and Pakistan's Inter-Services Intelligence agency.
Their cooperation is seen as vital in tackling al-Qaida in Pakistan.