Kuwait emir pardons jailed opposition members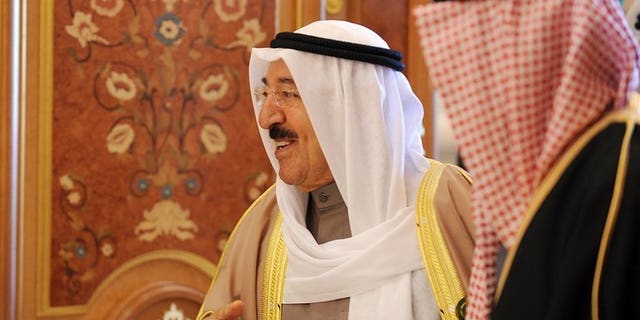 KUWAIT CITY (AFP) – Kuwaiti Emir Sheikh Sabah al-Ahmad al-Sabah pardoned on Tuesday all those who have been sentenced to jail for insulting him.
"On the occasion of the last 10 days of (the Muslim fasting month of) Ramadan, I am pleased to issue an emiri pardon for those who have been handed jail terms on charges of insulting the emir," he announced in a televised speech.
Several opposition members have been jailed and dozens more are on trial on charges of undermining Sheikh Sabah's authority and insulting him.
Currently, there are several youth opposition activists serving various jail terms on charges of insulting the emir.
A number of other activists and former opposition lawmakers are on trial or have been convicted for similar charges following a government clampdown on dissent that began in October. They include two women -- one sentenced to 11 years and the other for 20 months for insulting the emir -- who are appealing their sentence.
It was unclear whether the pardon applied to all or only to those in jail, but lawyers and rights activists said it will not cover all activists charged with insulting the emir.
"Those who benefit from the emiri pardon are the ones who have been handed final verdicts by the court of appeals or the supreme court," said director of Kuwait Society for Human Rights Mohammad al-Humaidi on his Twitter account.
"It does not include cases that are being heard (in lower court) now," said Humaidi, himself a lawyer.
The defence lawyer for opposition leader and former MP Mussallam al-Barrak said his client is not covered.
"The pardon does not cover Barrak's cases because he has not been handed a final verdict. It also does not cover the case of storming parliament (in November 2011) nor people on trial for demonstrating," Thamer al-Jadaei said on his Twitter account.
Barrak was sentenced to five years for criticising the emir but the sentence was scrapped by the appeals court, which is still reviewing the case.
The Kuwaiti opposition made no comment so far on the pardon but some of its members welcomed the decision.
The pardon "is a good step we thank the emir for. We hope that unity will be restored and that the national assembly regains its constitutional powers," said former opposition MP Waleed al-Tabtabai.
International human rights groups have criticised Kuwait for jailing opposition members on such a charge and called on authorities to amend the penal code to amend the article that prohibits criticising the ruler.
Criticising the emir is a felony that can carry a jail sentence of up to five years.
The emir's action came a few days after parliamentary election that was boycotted by the main opposition groups in protest against an amendment to the electoral law even though the constitutional court upheld the change in June.