Kenya vows to prevent looting at mall attack scene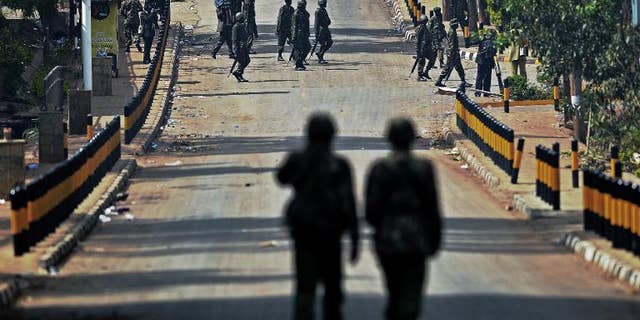 Nairobi (AFP) – Kenya has taken measures to protect valuable goods inside the sealed off Nairobi mall attacked by Islamist gunmen last week following reports that one jewellery had been looted.
"Our security forces are responsible people and we have put every mechanism in place to ensure that there will be no such criminal activity," Interior Minister Joseph Ole Lenku told reporters.
Unconfirmed reports that up to one million dollars worth of jewels were stolen from a shop at the Westgate mall have raised fears among owners of the vast complex's businesses that police guarding the site were helping themselves.
Several members of the police force, which has consistently been ranked Kenya's most corrupt institution, have been questioned over widespread theft that took place in the panic caused by a fire that gutted large sections of Nairobi's international airport in August.
"We want to ensure people that have businesses at Westgate there that their property is safe," Lenku said in his latest update on the attack that left at least 67 dead and shocked the nation.
"On the issue of looting, we will invite owners of the businesses in the mall to assess their stalls," he added.
Access to the mall, a whole section of which collapsed during the bloody four-day siege that followed the raid, is closed to the public as investigators, including Israeli and US teams, scour the wreckage for clues.
A police constable was charged Wednesday with stealing a wallet from a victim he was assisting in the early moments after gunmen from Somalia's Shebab group stormed the packed complex and sprayed bullets on shoppers and families.
A charge sheet showed that the officer was arrested by his immediate boss, who found him with the blood-stained wallet and other of the victim's possessions.