Justin Trudeau violated ethics laws, watchdog finds weeks before Canadian election
Canada's ethics commissioner on Wednesday accused Prime Minister Justin Trudeau of improperly pressuring the country's former attorney general to halt the criminal prosecution of a major engineering firm that has been accused of bribery to secure contracts.
The allegation, outlined in a report, comes just before the official start of campaigning for the Oct. 21 general election and deals a major blow to Trudeau and his ruling Liberal Party.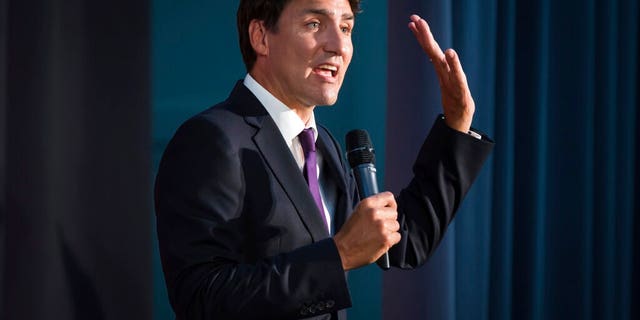 JUSTIN TRUDEAU DEALT ANOTHER BLOW AS LIBERAL ALLIES ARE SWEPT OUT OF POWER IN ALBERTA ELECTIONS
Ethics commissioner Mario Dion said Trudeau's attempts to influence the former attorney general and justice minister, Jody Wilson-Raybould, defied conflict-of-interest rules prohibiting public officials from interfering in a person's private interests.
Wilson-Raybould testified in February that she experienced a sustained effort by many people in Trudeau's government to inappropriately interfere in the prosecution of Quebec-based engineering giant SNC-Lavalin, which employs about 9,000 people in Canada and some 52,000 around the world. The effort to interfere in her prosecutorial discretion, she said, included "veiled threats."
Wilson-Raybould said she believes she was demoted because she didn't give in to pressure to reach a remediation agreement with SNC-Lavalin, which is accused of bribing officials in Libya with millions to secure government contracts there. That potential solution would have avoided a possible criminal conviction that would bar the company from receiving Canadian government business.
"Because SNC-Lavalin overwhelmingly stood to benefit from Ms. Wilson-Raybould's intervention, I have no doubt that the result of Mr. Trudeau's influence would have furthered SNC-Lavalin's interests," Dion said in his report.
JUSTIN TRUDEAU 'RUNNING OUT OF TIME' TO MAKE UP GROUND AHEAD OF CANADIAN ELECTIONS
In March, Wilson-Raybould released a secretly recorded phone conversation in which Michael Wernick, an aide to Trudeau, told Wilson-Raybould that Trudeau, fearing the potential for job losses, "is determined, quite firm," to avoid prosecution of SNC-Lavalin.
Trudeau has admitted trying to persuade Wilson-Raybould, but insists he's done nothing wrong, according to Reuters.
CLICK HERE FOR THE FOX NEWS APP
Trudeau is expected to respond to the report later Wednesday.
The Associated Press contributed to this report.